Mariners miss chance in ninth, fall on balk in 10th
Mariners miss chance in ninth, fall on balk in 10th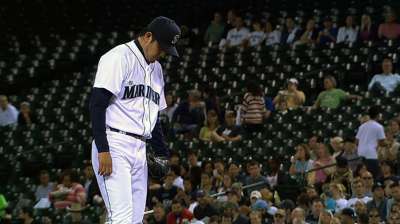 SEATTLE -- With runners on first and second and none out in the ninth, the Mariners couldn't have asked for a better opportunity to walk off with a win against division-rival Texas. But consecutive strikeouts to rookies Nick Franklin and Brad Miller followed Humberto Quintero's popup bunt, setting the stage for the Rangers to win, 4-3, in 10 innings on a balk by closer Danny Farquhar.
Ian Kinsler manufactured the winning run for the Rangers, stealing third and putting himself in position to win it on home-plate umpire CB Bucknor's balk call. The second baseman singled and advanced on a single from former Mariner Adrian Beltre.
"I would say that was probably the biggest mistake of the inning, was letting him get to third base," Farquhar said. "Maybe getting a little repetitive with my signs, been doing the same thing for a while. I think [those] guys picked up on it. Kinsler saw curveball was coming. I should've held him on better."
Farquhar said that while he didn't think he committed the transgression at the time, after watching video in the clubhouse it was clear to him that he had flinched.
"He was looking in for his sign, and he started up and stopped and moved his left shoulder," Bucknor said. "Any movement associated with his set position -- he doesn't come and stop -- is a balk."
Still, it was the offense that drew manager Eric Wedge's ire. After some early fireworks, Seattle finished the game with seven scoreless innings. The team has now scored just eight runs in its past five games.
"Ultimately the difference for us was the bottom half of the previous inning," Wedge said. "Get a few guys on, catch a break with [Dustin] Ackley's bunt. The next guy's got to get a bunt down and didn't do it. Then the next two guys have to pick them up, put the ball in play, a couple strikeouts."
A bright spot offensively for the Mariners was the continued resurgence of Ackley, who hit three singles and drew a walk, giving him eight multihit games in his past 16 starts. After some early-season struggles, Ackley was sent down to Tacoma, where he made the transition from second baseman to outfielder.
He has thrived since returning from Triple-A, batting .351 since the All-Star break. But the Mariners never mustered a hit with Ackley on base, wasting his 3-for-3 night.
Mariners starter Hisashi Iwakuma settled down after a rough second inning, striking out seven over six innings. After striking out the side in the first, Iwakuma gave up three runs on four hits in the second, which saw eight Rangers step to the plate.
"I thought they did a nice job, made him work," Wedge said. "They were fouling some pitches off, he threw some pitches but he controlled damage though. What was even more impressive than that was the way he came back after that and got us deeper in the ballgame. Gave us six innings with those three runs."
The no-decision ended a two-game winning streak for Iwakuma. The loss extended the Mariners' skid to five games and drops them to fourth place in the American League West following the Angels' 6-5 win over Tampa Bay.
"That's always tough when you have first and second and nobody out and you can't get a guy in, especially in that situation to win the game," Ackley said. "It's tough, that stuff happens in this game, and we've just got to learn from it and move on."
Although the Mariners were able to put 14 batters on base, they only converted the baserunners into runs in the early going.
Franklin Gutierrez tied the game at 3 in the third inning with a home run. The outfielder returned from the disabled list on Monday and was 0-for-5 before his blast over the center-field wall.
It was the second return from the DL this year for Gutierrez, who has played only 152 games over the past two years due to a variety of injuries.
Jacob Thorpe is an associate reporter for MLB.com. This story was not subject to the approval of Major League Baseball or its clubs.