Rangers score on balk to prevail in 10th
Rangers score on balk to prevail in 10th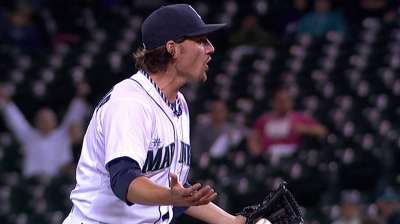 SEATTLE -- Ten minutes after the game was over, Rangers manager Ron Washington still didn't know what Mariners pitcher Danny Farquhar did that made home-plate umpire CB Bucknor call a balk.
"No, and I didn't ask," Washington said. "I just saw CB call a balk and started smiling."
Ian Kinsler didn't see the balk either, but he did stroll home from third base with the go-ahead run in the 10th inning of the Rangers' 4-3 victory over the Mariners on Tuesday night at Safeco Field.
"I wasn't paying attention," Kinsler said. "I was focused on what I was going to do, like on a passed ball, baserunning things. I didn't see it."
Kinsler said he couldn't remember a game ending like this one did.
"I'll remember this one," Kinsler said after the Rangers won for the 18th time in 24 games this month to remain 2 1/2 games ahead of the Athletics in the American League West.
"Crazy, but a win is a win no matter how," shortstop Elvis Andrus said.
The Rangers, in a 3-3 game, hadn't scored since the second inning when with one out in the 10th Kinsler singled off of Farquhar. Adrian Beltre also singled, putting runners on first and second with A.J. Pierzynski at the plate.
Kinsler noticed on the first pitch to Pierzynski that Farquhar was using a high leg kick in his delivery. Farquhar did so again on the second pitch, and Kinsler swiped third base.
"I anticipated on the second pitch, he gave it to me and I went," Kinsler said.
"That was huge," Washington said. "He's a smart baserunner. The opportunity was there and he took advantage of it."
Farquhar induced a foulout from Pierzynski, leaving Kinsler standing at third base with two outs. But with Alex Rios at the plate, Bucknor called the balk on Farquhar.
"He was looking in for his sign, and he started up and stopped and moved his left shoulder," Bucknor said. "Any movement associated with his set position -- he doesn't come and stop -- is a balk."
Neither Farquhar nor Mariners manager Eric Wedge put up an argument. Wedge asked for an explanation and seemed satisfied with the answer.
"Oh yeah, it was definitely, I think it was a balk," Farquhar said. "It was very minor, but the rules say it's a balk. I had to go back and look at the video to see it because, to be honest, at the time I had no idea. I mean, it was the slightest flinch, but it was a flinch."
Wedge, whose team has lost five straight, was more annoyed about Kinsler stealing third.
"Very subtle but enough where it's a balk," Wedge said. "Just tough luck. First of all, we can't allow the guy to get to third base."
Joe Nathan allowed a hit and a walk in the 10th but got out of the jam by inducing a groundout from Michael Saunders to end the game. Nathan, who was pitching for the first time in five games, earned his 38th save. Tanner Scheppers picked up the victory.
The Rangers' bullpen combined for four scoreless innings behind starter Derek Holland, but Scheppers had the toughest job in the ninth. Neal Cotts started the inning by giving up a single to Saunders. Dustin Ackley then popped up a bunt attempt that went over Cotts' head as he charged off the mound. Cotts couldn't recover to make a play, and the Mariners had two on with nobody out.
Scheppers took over from there, firing one fastball after another at 96-98 mph. He got Humberto Quintero to pop out on another bunt attempt, then struck out Nick Franklin and Brad Miller to end the inning.
"Scheppers was dynamic," Washington said. "He just overpowered them. We certainly needed it and he did it."
This marks the 25th straight game that Rangers pitchers have allowed five runs or fewer, the longest such streak in club history. Rangers starter Derek Holland had trouble from the beginning but was able to hold the Mariners to three runs in six innings and leave with the game tied.
Holland struggled through the first four innings, allowing eight of 18 batters to reach base on four walks and four hits. The leadoff batter reached base in all four innings. He walked two of the first three batters he faced, and they both ended up scoring.
Franklin Gutierrez led off the third with a home run but Holland, after getting some pointed advice from Kinsler and backup catcher Geovany Soto, allowed just three singles and a walk beyond that point.
"The first inning was very frustrating," Holland said. "A lot of mechanics going wrong, I was leaving the ball up. I got a little frustrated and let my emotions eat me up. After that, I settled down and got stronger as the game went on."
The Rangers scored three off of Mariners starter Hisashi Iwakuma in the second inning but did not cross the plate again until the 10th. They needed a balk to finally score but the Rangers weren't complaining.
"Any time you win a hard-fought game, it adds to the confidence of the club and the toughness of the club," Kinsler said. "This was a hard-fought game."
T.R. Sullivan is a reporter for MLB.com. Read his blog, Postcards from Elysian Fields, and follow him on Twitter @Sullivan_Ranger. This story was not subject to the approval of Major League Baseball or its clubs.