Parra helps chase Kennedy, then Hill walks off
Parra helps chase Kennedy, then Hill walks off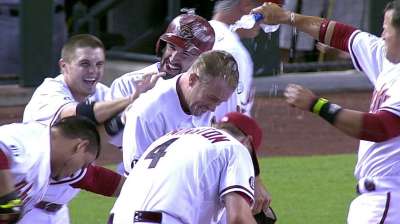 PHOENIX -- Throughout the whirlwind ride that has encapsulated the D-backs' 2013 season, the club's erratic nature has created heroes and goats on a seemingly daily basis.
Tuesday night's wild game at Chase Field produced plenty of both, but fortunately for Arizona, the heroes found a way to will the team to a much-needed victory as it tries to inch farther into the playoff picture.
After building leads of four in the eighth and two in the ninth only to see them evaporate, the D-backs finally closed out the pesky Padres in the 10th inning when Aaron Hill drove a deep single into left field off Dale Thayer to give Arizona its 11th walk-off win of the season, 10-9.
"A win is a win, no matter how you get it," Hill said. "We'll take every one of them. As long as it's a victory at the end of the night, I don't care how it comes about."
Tuesday's win, which pulled the club to within five games of the Reds for the second National League Wild Card Spot, marked the D-backs' 29th victory in their last at-bat and 38th comeback win of 2013, both of which lead the Majors.
"When you step back, it's amazing," D-backs manager Kirk Gibson said. "It's a good sign."
The 10th inning began with back-to-back singles by Adam Eaton and Paul Goldschmidt before a Martin Prado fly ball to center moved the lead runner to third, setting up Hill's game-ending hit moments later, with the Padres playing with two outfielders and five infielders.
"The whole at-bat I was looking for something up; I chased up on the first fastball, but I didn't change my approach," Hill said. "With five infielders, you just have to look for something you can get under. It worked out."
Of course, the D-backs could have made things a lot easier on themselves, but that would have been out of character for a team that has already played 20 extra-inning games this year, one shy of the franchise record.
Armed with a four-run cushion after seven relatively pedestrian innings, Chaz Roe, Joe Thatcher and Will Harris combined to give up four hits and two walks in the eighth to tie the game at 7.
After Prado handed the bullpen another opportunity when he plated two runs in the bottom of the frame with a double down the left-field line, Brad Ziegler allowed three hits and two walks in the ninth to once again tie the game. Ziegler managed to escape the inning on a brilliant diving catch by Prado, preventing at least two runs from scoring as Jedd Gyorko scorched a line drive down the third-base line.
"We were tied, so I had to guard the line," Prado said. "He hit the line drive, I got a chance to see it and I just dove for it. It was good that I caught that ball."
Still, the damage was done, as the D-backs upped their Major League-leading blown save total to 26. Arizona had one more chance to end the game before extras in its half of the ninth, but Cliff Pennington was caught in a rundown to end the frame after trying to score on a pitch in the dirt.
"We didn't play a very good game to be honest with you; we were fortunate to win it, but true to these guys' form, they continued to battle even though they made a lot of mistakes," Gibson said. "The bullpen obviously had some trouble, yet you make mistakes, but you still keep yourself in it. That's what the game is all about."
Although Hill ended up being the one getting mobbed on the field following his winning hit, Prado and Gerardo Parra each turned in performances worthy of celebration.
Prado's spectacular defensive play in the ninth combined with a two-hit, three RBI night for the latest in a slew of impressive games for him this month, during which he leads the National League with 38 hits and 30 RBIs.
"Everything is about confidence; this game is streaky," Prado said. "When you get in a hot one, you have to take advantage of it, and that's what I'm doing."
As for Parra, he drove in five runs off Ian Kennedy -- including three on his 10th homer -- in the former D-backs ace's first start at Chase Field since being traded to San Diego last month. After tallying just two RBIs in July, the 26-year-old has collected eight in just his last three games.
Kennedy ended up working just 4 1/3 innings and allowing six runs on six hits and five walks.
"It was difficult; I knew it would be a little different," Kennedy said about pitching against his former teammates. "I just put myself in holes, putting guys on; I walked a lot of guys. It's tough to do that. But it was a lot tougher than I thought it would be."
Although he did not factor into the decision, D-backs starter David Holmberg struggled with his command at times in his Major League debut and was knocked around over 3 2/3 innings, surrendering six hits and three walks. The left-hander, ranked by MLB.com as the club's No. 5 prospect, allowed just three runs, but at least a handful of the outs he recorded came on hard-hit balls.
"I was pumped up," Holmberg said. "It snowballed a little, but I think I did a good job of containing them to three runs. It was a crazy game, but I'm glad we came out on top."
Tyler Emerick is an associate reporter for MLB.com. This story was not subject to the approval of Major League Baseball or its clubs.