Wood outshines Kershaw under Los Angeles lights
Wood outshines Kershaw under Los Angeles lights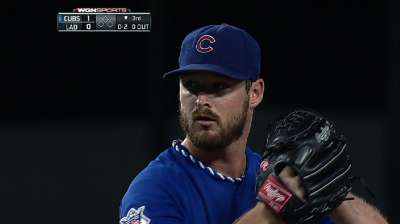 LOS ANGELES -- A left-handed pitcher picked up a victory Tuesday on Clayton Kershaw's night to pitch at Dodger Stadium, but it wasn't the Los Angeles ace.
Travis Wood stole the spotlight from this season's favorite for the National League Cy Young Award as the Cubs posted a 3-2 win and snapped an eight-game losing streak to the Dodgers in front of a sellout crowd of 52,326.
"He's the best pitcher in the game right now," Wood said of his counterpart. "He's an outstanding pitcher and he had an off night tonight; on his off night, he held us to two runs. I was fortunate to go out there and make quick pitches and get quick outs."
Dioner Navarro and Starlin Castro each hit RBI singles to hand Los Angeles' its sixth loss in 26 games this month.
"This is the hottest team, but I think for all these guys -- and especially the guys who were here last year, and myself and the coaching staff -- this is probably one of our most satisfying wins, that's for sure," Cubs manager Dale Sveum said.
The West Coast has not been kind to the Cubs, who went 1-18 on the road against the NL West last season. This was Chicago's first win against Los Angeles since May 6, 2012.
Wood avoided going 0-for-August when he struck out six over seven innings for his first win since July 28. The only blemish off the Cubs lefty was a two-out RBI single by Juan Uribe in the sixth.
"[Wood] matched [Kershaw] obviously pitch for pitch, and actually out-did him," Sveum said. "Woody was awesome to go seven innings against that lineup. That was as good of stuff as he's had in a long time. The ball was coming out of his hand really, really well."
Wood lost to the Dodgers on Aug. 2 at Wrigley Field, giving up five runs over an abbreviated 3 1/3-innings outing. Tuesday was much improved.
"Wood was an All-Star," Dodgers manager Don Mattingly said. "He's been having success by staying out of the middle of the plate. He didn't do it in Chicago, but he did a nice job tonight."
The pregame hype focused on Kershaw, and Sveum wanted his hitters to be on the attack.
"You've got to be aggressive," Sveum said. "He's going to be aggressive to you."
The left-hander was one more of the top tier of pitchers the Cubs have faced recently, including the Nationals' Stephen Strasburg and the Dodgers' Zack Greinke. Kershaw is one of four Cy Young Award winners the Cubs will deal with in a five-game span.
"This is the best pitching on a consistent basis that I've seen in the game," Sveum said. "You're dealing with teams having two, three, sometimes four guys who can go out and throw shutouts on any given night."
On this night, Kershaw couldn't do that, or match Sandy Koufax. The Dodgers' Hall of Famer was the last pitcher to throw a no-hitter against the Cubs, doing so on Sept. 9, 1965. The Cubs have played 7,633 contests since that game.
The key may have been the Chicago first. Kershaw needed 29 pitches to get through the inning.
"I think that was huge for us," Navarro said. "We got his pitch count up a little bit. I knew Kershaw, and I knew he was going to throw at least six innings. We did a great job as a team. It was a great group effort and we did what we were supposed to do."
Navarro knows Kershaw well. He was the lefty's personal catcher in 2011, when the two were together on the Dodgers. Did that give the Cubs catcher an edge?
"No chance, not when you face a guy like that," Navarro said. "I know I was Kershaw's personal catcher back in '11, but when you face a guy like that, he's got electric stuff, and to me, he's the best pitcher in the game. I went with the game plan, which was to look for a fastball and don't miss it. I'm glad he threw me a fastball in that at-bat [in the third] and I got a base hit."
In that inning, Wood helped himself when he singled to start the third, and one out later, Darwin Barney reached on a catcher's interference call against A.J. Ellis. Navarro smacked an RBI single to end Kershaw's scoreless streak at 18 1/3 innings.
Cody Ransom almost literally knocked Kershaw out of the game with a liner off the pitcher's right ankle to lead off the sixth. Darnell McDonald walked, and Kershaw struck out the next two batters before Castro lofted a single to left to score Ransom and chase Kershaw. It was the lefty's shortest outing since April 23, when he threw five innings against the Mets.
Kershaw did strike out nine and took over as the NL leader with 197 K's, passing the Mets' Matt Harvey (191). The Dodgers' ace just hasn't gotten much support. This was the 15th time in 28 starts he's received two or fewer runs.
"You definitely know he's bringing his 'A' game every time, and even if he's not, his 'B' game is still pretty solid," Wood said. "You have to be on top of your game to even compete or go the distance with him."
Once the bullpen took over, the Cubs loaded the bases in the seventh. Navarro singled, Donnie Murphy reached on an infield hit that deflected off pitcher Ronald Belisario, and Junior Lake was hit by a pitch. Navarro then scored when pinch-hitter Brian Bogusevic grounded into a double play.
The road trip didn't start well in San Diego, where the Cubs blew a six-run lead Friday, then lost in 15 innings on Sunday. Wood helped the Cubs forget those losses.
"I love going up against guys like that," he said of facing Kershaw. "Every start is the same for me, because you never know if it could be your last, but especially against a guy like him, you know you have to bring it, because he's bringing it."
And Wood did.
Carrie Muskat is a reporter for MLB.com. She writes a blog, Muskat Ramblings, and you can follow her on Twitter @CarrieMuskat. This story was not subject to the approval of Major League Baseball or its clubs.