Torres to have surgery for bone spurs in foot
Torres to have surgery for bone spurs in foot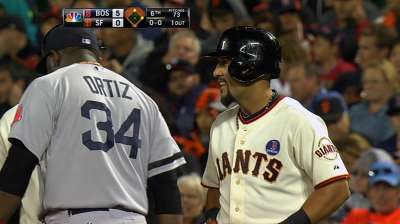 DENVER -- Outfielder Andres Torres will undergo surgery Wednesday to have bone spurs removed from near his left Achilles tendon. The surgery will be performed in Charlotte, N.C., by Dr. Robert Anderson, the Carolina Panthers' orthopedist and a foot specialist, who examined Torres on Tuesday.
Manager Bruce Bochy said Torres will face about six months of rehabilitation, so it's going to be "real close" whether he'll be ready at the start of the 2014 season.
Bochy said he sent Torres a text, and he responded that he was "doing great."
"I think he's looking forward to this getting taken care of so it doesn't nag him occasionally," Bochy said.
The switch-hitting Torres turns 36 in January and relies on his speed, so it's fair to wonder about the risks and rewards of the surgery for Torres at this point in his career.
"I know that's what Andres has been thinking about -- what to do here, whether to have surgery or not at his age and this type of surgery," Bochy said. "I guess the only way we can answer this is when he comes back, we'll see how he's running. It's such a big part of his game. I don't have the knowledge to know how much it is going to affect or if it is at all."
In 103 games, Torres, who went on the 15-day disabled list Aug. 22, hit .250 with two homers and 21 RBIs. He batted .291 in 141 right-handed at-bats and .206 in 131 at-bats hitting left-handed.
"He had his ups and downs just like our team," Bochy said. "[He] struggled from the left side. [In the] outfield, he wasn't as sharp defensively. He thinks the Achilles played a part in that. It's fair to say, it wasn't the type of year he was hoping for and we were hoping for."
Bochy said Gregor Blanco will get the bulk of the playing time in center field, Francisco Peguero can play there and an outfielder will be among the five or six players recalled when the rosters can be expanded Sept. 1. Angel Pagan is also expected to be activated from the DL on that date.
Jack Etkin is a contributor to and Chris Haft is a reporter for MLB.com. This story was not subject to the approval of Major League Baseball or its clubs.