Pence's collision more wearying to Bochy
Pence's collision more wearying to Bochy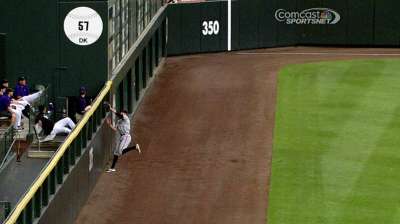 DENVER -- Seated in the Giants' third-base dugout before the game, manager Bruce Bochy asked, "How far do you think it is to right field, about 3 miles?"
He was harkening back to the first inning Monday night when right fielder Hunter Pence ran full speed into the right-field wall trying to catch a drive hit by Michael Cuddyer and fell to the ground, the wind knocked out of him.
Bochy and two athletic trainers jogged out to check on Pence -- a taxing jog, it turned out, for Bochy.
"It was the first day here, I had a cup of coffee and a dip in," he said. "That's got to be 3 miles. All I know is Hunter said, 'I'm OK. I'm OK.' I said, 'No, you're not. You stay down here. The manager needs a break. Before I start jogging back, I got to catch my breath.'"
In retrospect, Bochy said he should have gone to the bullpen in right field and walked back to the Giants' dugout through the bowels of Coors Field.
"That's what I'm mad at," Bochy said. "It's all about being resourceful, and I wasn't at that point. It's about 3 miles; I don't think any further than that."
Jack Etkin is a contributor to and Chris Haft is a reporter for MLB.com. This story was not subject to the approval of Major League Baseball or its clubs.