Oswalt eager to return after simulated game
Oswalt eager to return after simulated game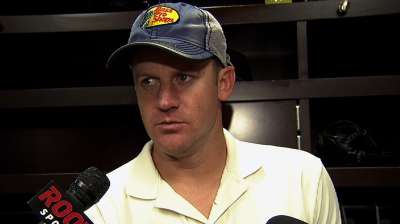 DENVER -- Many would look at 35-year-old Roy Oswalt's aging body and, with less than a month left in the season, say he should start planning for next year.
But after throwing his second simulated game at Coors Field on Tuesday as he rehabs a strained left hamstring, Oswalt is much more optimistic.
"I'm trying to get back and pitch this year and go from there," Oswalt said. "I'm hoping to come back and start at least four, maybe five games."
Oswalt made only four starts before the injury knocked him out, but he had no trouble making it through four innings facing live batters and throwing close to 60 pitches. He hopes to make a Minor League rehab start this weekend, and it would have to come soon as Triple-A Colorado Springs closes its season Monday.
Rockies manager Walt Weiss conceded squeezing in four or five starts would be the best-case scenario, but he saw an uptick in Oswalt's velocity and a pitcher nearing a rehab start.
"That would be the fast track, but yeah, we'll try to get him out there," Weiss said. "Today was a good sign, so if he can go out on a rehab assignment, he's ready to do that, we'll get him back out there."
Oswalt said there was noticeable progress from his first simulated game Thursday and he did not feel any lingering hamstring pain.
"Probably two weeks ago it wasn't quite ready and it's getting better, a lot better," Oswalt said. "I can actually get out on my front leg and put all my weight out there instead of holding back."
If he doesn't get the rehab start, Oswalt plans to throw another simulated game this weekend.
Ian McCue is an associate reporter for MLB.com. This story was not subject to the approval of Major League Baseball or its clubs.