A's take it to Verlander in rain-shortened win
A's take it to Verlander in rain-shortened win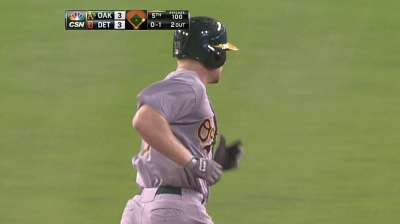 DETROIT -- The first inning of Tuesday's damp contest between the A's and Tigers was a mess, and by the sixth frame, so was the field, a steady downpour of rain ultimately stopping play at Comerica Park.
In between, the A's beat the Tigers for a second straight night, this time by a score of 6-3, to at least ensure themselves of splitting what was expected to be a daunting four-game set in Detroit, with Tommy Milone notching the atypical five-inning complete-game victory.
The performance may have earned him more time in the rotation, too, despite Bartolo Colon's looming return.
"Based on the fact we didn't have to use some bullpen," said manager Bob Melvin, "that's kinda nice."
Oakland's deficit in the American League West remains 2 1/2 games, with the leading Rangers defeating the Mariners in Seattle. The A's also hold a Wild Card spot.
The A's last trip to the Motor City was for a 2012 AL Division Series they ultimately lost. Their play in the here and now could largely affect their postseason chances this season, and on Tuesday they aided those by beating up on the same pitcher that put an end to their season last year.
Detroit's Justin Verlander, who claimed victory over the A's in Games 1 and 5 of the AL Division Series, showed a different version of himself on this night, needing 44 pitches to get through a two-run first, 104 in all to finish five.
Coco Crisp led off the lengthy first inning, which ultimately totaled 45 minutes, with a walk before Josh Donaldson's single and a two-run bloop double off the bat of Jed Lowrie.
Lowrie was left stranded on second base, which could've haunted the A's after Milone suffered the same type of first-inning woes as Verlander, throwing 33 pitches and giving up three runs.
Just two were earned, on a bases-loaded single from Prince Fielder, as Alberto Callaspo made a two-out fielding error on Omar Infante's potential inning-ending grounder that led to the go-ahead run.
Milone settled down thereafter, though, retiring 12 of his final 14 batters. Verlander, not so much.
"I felt a little more comfortable, whether it was not being in the stretch the whole time, but once I got to the second inning -- throwing out of the windup -- just kind of got my rhythm going and just started throwing more strikes and getting them out of there early," said Milone. "That was the big thing, staying low and attacking hitters."
The A's gave Verlander a breather in a 1-2-3 second, but they scored the tying run in the third on a two-out double from Yoenis Cespedes, snapping an 0-for-15 streak for the left fielder.
Brandon Moss' two-run homer to left-center in the fifth, his 22nd home run of the season, gave Oakland back the lead, and Seth Smith hit his own homer a long way to right-center in the sixth against righty reliever Bruce Rondon.
"I'm just trying to get something to hit. I don't hit him very well," said Moss, hitless in seven previous career at-bats against Verlander. "The second at-bat, the walk, that did a lot for my confidence against him, as far as knowing I was able to battle him a bit. There was a changeup first pitch, a really good one, and he came back with one that didn't have that same bite to it. It just stayed up, and I swung as hard as I could, and luckily it got out at least by a few feet."
For Smith, it was his seventh homer of the season but first since June 16, a stretch spanning 40 games. Moreover, he entered the game hitting just .102 in 21 games since the break, his season average down to .238. Much of those issues seemed to have stemmed from ongoing eye issues, which were seemingly corrected last week by way of Lasik surgery.
"His at-bats have been better," Melvin said. "Obviously any time you hit a home run, square it up like that, you feel that much better. Good to see him swing the bat better, and we did that across the board today."
Every A's starter reached base at least once, and Oakland's ability to add on and carry momentum from one inning to another -- and one game to another -- was extremely encouraging for a club that has failed to do so on several occasions this year.
"It's huge, especially because of their pitching staff and because of their offense," Moss said. "Their offense is going to score runs at any point in the game. They're capable of putting up three, four runs an inning. To continue to go up and put up runs and put pressure on their pitchers is huge, because you can't sit back on them."
"Pretty good starters we've had two good nights off of, so hopefully that's a contagious thing for us offensively," Melvin added.
After Smith's long ball, the A's loaded the bases before the tarp was pulled out for good, with play officially being called following an 80-minute delay.
Jane Lee is a reporter for MLB.com. This story was not subject to the approval of Major League Baseball or its clubs.