Pettitte, Soriano turn back clock in rout of Jays
Pettitte, Soriano turn back clock in rout of Jays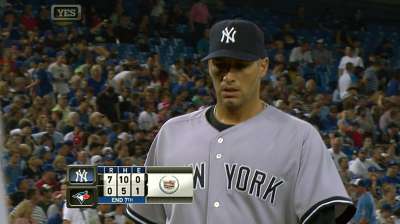 NEW YORK -- The Yankees hit four home runs and Andy Pettitte turned in seven innings of scoreless, five-hit ball, but their best news on Tuesday came when Robinson Cano emerged from an X-ray machine with nothing but a bruised, swollen left hand.
Cano and the Yankees dodged what would have been a devastating injury for their postseason hopes, allowing the Yankees to exhale and celebrate a 7-1 rout of the Blue Jays that included Alfonso Soriano's 400th home run and the 651st of Alex Rodriguez's career.
"I was happy," Pettitte said. "I just saw [Cano] in there after the game, and I said, 'You good?' He gave me a thumbs up. It definitely would've been a huge blow if you would have had him out for an extended period of time. We got lucky with that, that's for sure."
With that weight lifted off their shoulders, the Yankees cruised to a 12th win in their last 17 games. New York sits 7 1/2 games behind in the American League East and 4 1/2 games out of the second AL Wild Card slot.
"We need these wins like oxygen," Rodriguez said. "One thing this team is going to do is leave it all out there for the next 30, 31 days; maximum effort."
The Yankees built a four-run lead before Pettitte had to touch the ball. Derek Jeter opened the scoring with an RBI single, and after Cano was drilled on the bottom of his left hand with a 90-mph fastball, Soriano exacted revenge with a tape-measure home run over the left-field fence.
Soriano also cleared the wall in his next at-bat, becoming the seventh player in history to log his 400th homer in a Yankees uniform.
"It's good," Soriano said. "When I retire, I can think about what I did in the game. I'm very proud. The talent that I've got, God gave it to me. I never think I'm going to hit 400 homers in the big leagues with my size, but I think I work hard and try to get better every day. That's what I've got."
It was plenty, as Pettitte rolled back the clock. The 41-year-old left-hander said that the lead allowed him to pitch more aggressively, leaning on a cutter and sinker that have increased in effectiveness now that Pettitte seems to have rediscovered his correct arm slot.
"He was really good," manager Joe Girardi said. "He went through the lineup with not too many pitches the first time. He got some big outs when he had to. I thought he was sharp."
It took until the latter part of the game for the Yankees to receive a definitive update on Cano, as he was first examined at Rogers Centre by a Blue Jays physician and then sent for an off-site opinion at a Toronto hospital.
Losing their All-Star second baseman could have been the final hole in a season already riddled with them, and it would've represented a repeat offense from Happ, who broke Curtis Granderson's right forearm in the Yankees' very first exhibition game back on Feb. 26.
"I was [scared] right away -- I was hurt," Cano said. "I was pretty concerned. [First-base coach] Mick [Kelleher] asked me at first base if I thought it was broken; it was close to the bone. Maybe it missed the bone by an inch. Thank God it was nothing worse."
Pettitte faced the minimum over the first three innings, and center fielder Brett Gardner kept the Jays off the board with a one-hop throw in the fifth that cut down Moises Sierra at home plate. Pettitte walked two and struck out three in an 86-pitch gem.
"He doesn't pitch the way he used to, but he knows how to pitch," Toronto manager John Gibbons said of Pettitte. "They eat you alive. They get you to roll over, double plays, things like that."
Mark Reynolds homered off Esmil Rogers in the sixth inning, and A-Rod moved within nine homers of Willie Mays (660) on the all-time list with a no-doubt blast to center field in the seventh.
"I'm still trying to get my legs underneath me, and I'm working hard on that right before every game," said Rodriguez, who has homered on back-to-back nights and has four this year. "So far, so good."
Kevin Pillar accounted for Toronto's only run with an RBI double off reliever Adam Warren in the eighth, an inning that featured an injury scare for second baseman Eduardo Nunez.
Nunez said that his spikes got caught in a seam of the artificial turf and that he initially feared his right knee might have been "broken" as he crumpled to the turf. But Nunez completed the inning and logged a hit before leaving for a pinch-runner in the ninth.
"It was a good win for us," Pettitte said. "We needed it after last night, that's for sure. We played great defense, and the guys scored some runs. It really let me settle in."
Bryan Hoch is a reporter for MLB.com. Follow him on Twitter @bryanhoch and read his MLBlog, Bombers Beat. This story was not subject to the approval of Major League Baseball or its clubs.