Blue Jays can't keep slugging Yanks in the park
Blue Jays can't keep slugging Yanks in the park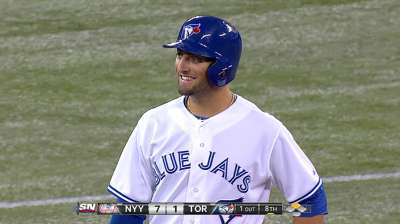 TORONTO -- Leading up to the unequivocal support he received from Blue Jays general manager Alex Anthopoulos on Tuesday, manager John Gibbons appeared to be on the hot seat.
The greatest argument in Gibbons' favor was that Toronto's starting pitching simply hasn't lived up to its preseason billing, leaving the manager handcuffed. On Tuesday night at Rogers Centre, that point was reinforced, as starter J.A. Happ was roughed up during his 4 2/3 innings on the mound.
Happ allowed four runs in the first inning and another in the third, setting the tone as the Blue Jays fell to the Yankees, 7-1.
Happ was making his fifth start since returning from a head injury, and his second against the Yankees in as many outings. As he was in New York last Thursday, when he allowed five runs, Happ was simply ineffective. The left-hander was charged with four runs before retiring a batter on Tuesday.
In succession, Happ allowed a double, a wild pitch, a single and a hit batsman before surrendering a long three-run home run to Alfonso Soriano.
"The big play there was the first pitch to Soriano -- he takes him deep, spots them four runs out of the gate," Gibbons said. "It's tough to overcome that; it really is. We've been saying all along, 'If we get a decent pitching outing, we have a chance.' But when we spot them early, especially when we're not scoring a lot of runs right now, it makes it tough."
Trailing early has become a common theme for the Blue Jays this season. With 29 games remaining, they have already surpassed last season's total of first-inning runs allowed with 75.
"It's happened way too many times this year," Gibbons reiterated. "It makes it difficult, so we have to iron that out. ... That's just reality, but teams that win, they pitch really well.
"It all revolves around starting pitching -- it always has and always will. We've taken our lumps throughout the year, and we've had some really good efforts and we've struggled at times. When we struggle through some games, we get blown out early."
Although the 30-year-old Happ would eventually escape the first inning without further damage, he allowed a third-inning home run to Soriano off the top of the left-field wall, the 400th of the veteran outfielder's career.
By the time Happ departed with two outs in the fifth inning, he had allowed five runs on seven hits and two walks, adding five strikeouts.
It was a second messy outing in as many starts for the left-hander, whose tough night became just another in a season featuring more than the Blue Jays would like.
"I can only speak for myself, but I know I can pitch better," Happ said. "I'm going to try not to think about this one too much -- try not to overanalyze. I feel good. I'm healthy, and I feel like I'm throwing the ball well; I just need to take the next step. I feel like I can definitely do that. I'm looking forward to the rest of my starts."
While Happ faltered, 41-year-old lefty Andy Pettitte proved to be effective for the Yankees. Pettitte has struggled at times this season, but he had everything working during his seven shutout innings.
"I just feel like everything's working for me," Pettitte said. "My cutter is working good, and I have a little bit better command of the outside corner. I'm just feeling better. My sinker is sinking now when I throw it. When you throw that out there and you're able to get some ground-ball double plays, that's huge. The biggest thing, like I've said for several months, the pitches are doing what they're supposed to and they're cooperating right now."
Pettitte allowed five hits and a pair of walks, while striking out three, and he was rarely in trouble on the mound.
The only threat came in the fifth inning, when second baseman Ryan Goins singled sharply to center field with Moises Sierra on second. Blue Jays third-base coach Luis Rivera waved home Sierra, but he was thrown out at the plate by a wide margin on a strong throw from center fielder Brett Gardner.
The Blue Jays eventually reached the scoreboard against reliever Adam Warren in the eighth, when Kevin Pillar doubled to bring home Goins, who had reached on a single that struck Sierra on the basepaths for the inning's first out.
With the loss, the Blue Jays fell to 2-13 against the Yankees this season, but they'll look to win their first series against New York in the rubber match on Wednesday night.
Evan Peaslee is an associate reporter for MLB.com. Follow him on Twitter at @EvanPeaslee. This story was not subject to the approval of Major League Baseball or its clubs.