Eovaldi, Marlins held to Yelich homer in D.C.
Eovaldi, Marlins held to Yelich homer in D.C.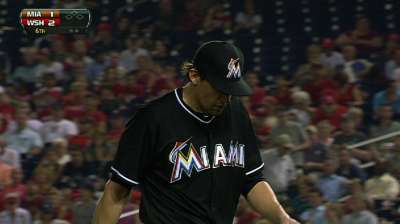 WASHINGTON -- The Marlins returned to Nationals Park on Tuesday for the first time since the opening week of the season, when they were shut out twice in a three-game sweep. Ricky Nolasco, Kevin Slowey and Wade LeBlanc started for Miami. Placido Polanco hit cleanup.
"Yeah," manager Mike Redmond said, "definitely a different team than where we are now."
The team that took the field on Tuesday night was certainly different, but the result was the same. The Marlins only mustered four hits and one run in support of Nathan Eovaldi, falling to the Nationals 2-1.
With their sixth loss in seven games, the Marlins fell to 49-81 on the season. This loss was like so many others before it.
"We've kind of seen this story before," Redmond said. "We're not getting a whole lot of breaks, but we're not giving ourselves opportunity to get a lot of breaks either. So [we'll] just keep plugging along, I guess."
The game was not nearly as exciting as the score might indicate. Only three Marlins -- Christian Yelich, Giancarlo Stanton and Justin Ruggiano -- recorded a hit. A fourth, Logan Morrison, reached twice on walks. Yelich accounted for all of the team's scoring with his home run in the sixth inning.
With the playoffs long out of reach, the Marlins have relied on young players like Yelich and Stanton to carry the offense. They have now scored three runs or fewer in each of their past six games. Veteran outfielder Juan Pierre chalked it up to inexperience.
"It's just a process," Pierre said. "Kids are learning on the fly here. It's just going to take a little time. Nobody just came in the league tearing the cover off the ball. You've got to be patient."
The Marlins never led on Tuesday after the Nationals claimed a 2-0 advantage in the first inning. But after a rocky start, Eovaldi calmed down.
For the sixth time in his past eight starts, the 23-year-old right-hander gave the Marlins a quality outing. And for the sixth time in eight starts, they couldn't score more than than two runs to support him.
"He really was in complete control that whole game, with the exception of the first inning. He battled through," Redmond said. "We had some opportunities, we haven't scored any runs for him. He's that guy that doesn't get any run support out there, and it's too bad."
Eovaldi only allowed two runs on eight hits over six innings, striking out six batters and intentionally walking one. He hasn't received a winning decision since July 12.
"Just ran into some trouble in that first inning," Eovaldi said. "If I can just avoid that one inning here and there, I'd be a lot better off."
The Marlins didn't give him much help. They didn't put a runner on base against Nationals starter Ross Ohlendorf through the first three innings before Yelich singled to lead off the fourth. Stanton followed two batters later with a double down the left-field line, giving the Marlins two runners in scoring position with one out.
The Nationals intentionally walked Morrison to load the bases, setting the stage for Ed Lucas, who struck out. Then Ruggiano, who was perhaps the team's hottest hitter during its recent homestand, hit a slow grounder to third base to end the inning.
"We just weren't able to get the big hit," Redmond said. "They pretty much openly walked, pitched around Stanton and LoMo there, and the guys behind him got to make him pay. And really that's the difference."
The lone highlight came in the sixth. Yelich yanked a 2-1 changeup down the right-field line for a homer, cutting the deficit to 2-1 and chasing Ohlendorf from the game. Nationals reliever Tanner Roark walked both Stanton and Morrison with one out, creating another chance for the Marlins.
Once again, Lucas and Ruggiano were retired to end the inning.
"Hopefully we can get going," Redmond said. "I'm hoping these guys get tired of getting out. It's got to get old."
Tom Schad is an associate reporter for MLB.com. This story was not subject to the approval of Major League Baseball or its clubs.