Mo shares 'Boss' memories with Toronto staffers
Mo shares 'Boss' memories with Toronto staffers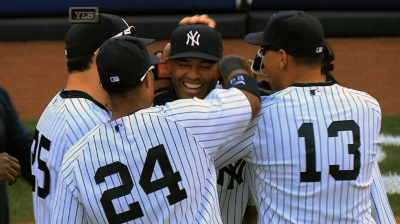 TORONTO -- There has traditionally been very little for the Blue Jays to smile about while "Enter Sandman" by Metallica has blared from the Yankee Stadium speakers whenever Mariano Rivera has stepped onto the field during his illustrious 19-year career.
It's easy to see why, as Rivera entered Tuesday's game at Toronto with an 8-2 record, a 1.83 ERA, 53 saves and 106 strikeouts over 103 career innings against the Blue Jays.
But as Rivera stepped into the executive lounge at Rogers Centre on Tuesday to meet with 20 Blue Jays employees, there were more than just a handful of smiles.
The all-time saves leader delighted those in attendance during a 45-minute question-and-answer session that included a photo opportunity and a signed ball.
Rivera and Jason Zillo, the Yankees' communications and media relations director, addressed the room full of some long-time and deserving behind-the-scenes employees, including one who's been with the club since before it even had a name.
The 43-year-old Rivera answered questions ranging from his retirement plans to how it feels to stand on the mound and how he learned his famous cutter.
Rivera's most poignant and thoughtful answer, however, may have come as a surprise. Answering the final question, Rivera discussed what it was like to know late Yankees owner George Steinbrenner, giving a brief glimpse of "The Boss" when the cameras weren't rolling.
Rivera called Steinbrenner "loyal" and "loving," adding that he wanted his players only to try their best, regardless of the outcome.
Rivera then told the story of the Yankees' dramatic loss to the D-backs in Game 7 of the 2001 World Series. With Rivera on the mound in the ninth inning, Arizona outfielder Luis Gonzalez stroked a single past a drawn-in infield, plating the final run of the Series and saddling Rivera with a crushing loss.
After the game, Steinbrenner was the first to approach Rivera in the clubhouse at the ballpark that's now called Chase Field.
Rivera turned to Steinbrenner and told him he had done his best. Steinbrenner simply said, "I know."
It was a simple yet fitting way for Rivera to end the brief but lasting session.
On his way out, Rivera again thanked the group for everything they've done for baseball, then made his way down to the field to get back to what he does best.
Gregor Chisholm is a reporter for MLB.com. Read his blog, North of the Border, and follow him on Twitter @gregorMLB. Evan Peaslee is an associate reporter for MLB.com. Follow him on Twitter at @EvanPeaslee. This story was not subject to the approval of Major League Baseball or its clubs.