Rodney blows save as Rays lose ground to Boston
Rodney blows save as Rays lose ground to Boston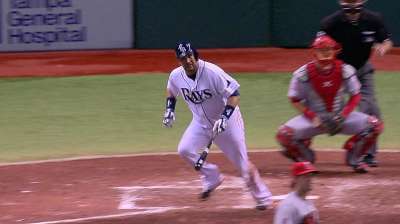 ST. PETERSBURG -- A 5-1 Rays lead after six innings evaporated into an ugly 6-5 loss to the Angels on Tuesday night at Tropicana Field.
"We've lost that game way too many times this year," Rays manager Joe Maddon said. "We still have a fine record, whatever, but that's the kind of game we have to stop giving away."
Tampa Bay (74-56) has now lost three in a row after winning eight of its previous 10, dropping to 2 1/2 games behind the first-place Red Sox in the American League East after Boston drubbed the Orioles, 13-2, Tuesday night.
Everything looked in place for a stereotypical Rays win. Hard-luck starter Roberto Hernandez gave the Rays a quality start and the bullpen appeared ready to take the team the rest of the way.
But closer Fernando Rodney did not get the job done, and the Rays' stellar defense had a lapse in the ninth that contributed to Rodney's demise.
Rodney walked Grant Green to start the frame. Speedy Peter Bourjos then grounded into a force out before stealing second. He appeared to earn a free pass to third on a Rodney balk, but catcher Jose Molina had called timeout, so the call was reversed, sending Bourjos back to second. The pendulum then swung the other way when J.B. Shuck hit a ball to shallow center field. Desmond Jennings charged in but somehow dropped the ball, allowing Bourjos to reach third and Shuck to pull into second. Jennings entered the game with two errors on the season and a .996 fielding percentage that ranked first among AL center fielders.
"I just missed the ball," Jennings said. "It hit the tip of my glove ... just didn't catch it. ... Any time you make an error, it [stinks] -- especially a situation like that."
Erick Aybar made the Rays pay with a two-run double to right that put the Angels up, 6-5.
"Maybe [Jennings' error is] the play of the game tonight, but that's baseball," said Rodney, who suffered his eighth blown save of the season. "You can't guarantee that he'll catch the ball. If he catches it, maybe something different happens. ... I feel great. I try to do my job every night, and tonight I didn't do what I was supposed to. I'll be ready for tomorrow."
Former Rays right-hander Dane De La Rosa pitched the ninth for the Angels and issued a leadoff walk to Yunel Escobar. But after James Loney popped out to Kole Calhoun in right, pinch-hitter Matt Joyce grounded into a game-ending 3-6 double play to earn De La Rosa his second save of the season.
"When they cracked the door open, we got the big hit from Erick to help us out," Angels manager Mike Scioscia said. "I think [Aybar] is great when we set the table for him. He's going to put the ball in play. He's not trying to do too much. He's been good in those situations."
Hard luck has followed Hernandez all season.
On most nights when the veteran right-hander has started, the Rays' bats have gone silent. And seemingly, he has been just good enough to lose.
Hernandez carried 13 losses into Tuesday night's start. In those losses, the Rays scored just 17 runs with him in the game.
But his batterymate, Molina, singlehandedly topped Hernandez's 2.43 runs per start average with an RBI double in the second and a two-run double in the fifth that gave Tampa Bay a 3-1 lead. Loney added a two-run, two-out single in the sixth that put the Rays up, 5-1.
Through six innings, Hernandez had allowed only a 458-foot homer to Mike Trout -- the longest at Tropicana Field this season. Then the game got interesting and the question of whether Hernandez truly is a jinxed pitcher came to the forefront.
Chris Nelson led off the Angels' seventh with a single to center. Green then placed a bunt that rode the third-base line until it stopped in fair territory for a single.
"If he bunted it a little bit harder, it would have gone foul," Maddon said. "But he bunted it the right speed and it stayed fair."
Jake McGee took over and walked the first batter he faced before Shuck grounded out to second to score Nelson. Aybar added a two-run single that cut the lead to 5-4.
McGee recovered to strike out Trout and Josh Hamilton to end the threat. Joel Peralta pitched a scoreless eighth in advance of Rodney's blow save.
"You guys saw what happened," Rodney said. "That's baseball. It happens sometimes."
Bill Chastain is a reporter for MLB.com. This story was not subject to the approval of Major League Baseball or its clubs.