Correia throws seven scoreless, but Royals rally late
Correia throws seven scoreless, but Royals rally late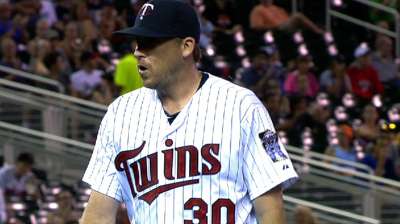 MINNEAPOLIS -- On a hot and humid Minnesota evening, Kevin Correia stayed cool against whatever pressure the Royals created.
The Twins right-hander did not allow a run over his seven innings of work in Tuesday's series opener at Target Field, giving up six hits and two walks. He struck out seven over 118 pitches, setting a career high as he outpaced his old record of 114 pitches -- a mark he matched twice previously, in 2005 and '09.
But Correia's solid outing went all for naught, as it was undone in the eighth. The Royals used three straight one-out singles to finally open up the scoring -- leading to a 6-1 win.
"He pitched very well," Twins manager Ron Gardenhire said. "He matched [James] Shields inning for inning out there. A strong effort by him throwing the ball. He used all of his pitches, he had them all working for him just like their guy did."
Correia ended his night with an 11-pitch at-bat to Eric Hosmer, with Emilio Bonifacio sitting on second. After two straight strikeouts to start the inning, Correia gave up the double that Bonifacio roped to right-center. Correia dug deep and battled with Hosmer until the Royals first baseman lined one right at shortstop Pedro Florimon to end the inning.
"It's big," Correia added. "Obviously, one hit in one of those situations and they're taking the lead. You're facing their ace, who is a very good pitcher, so you have to throw up as many zeros as you can to try to match him."
With Jared Burton on in relief of Correia in the eighth, the righty struck out Billy Butler before allowing three straight hits to Salvador Perez, David Lough and Chris Getz. Getz's bloop single into right field allowed Perez to score after moving to third on Lough's single to right field, making it 1-0.
Burton walked Alcides Escobar to load the bases before giving way to Caleb Thielbar. On Thielbar's first pitch, the Royals ran a perfectly executed squeeze play, allowing Lough to make it 2-0 and Jarrod Dyson to keep the bases loaded.
"We talked about it: Take a shot at putting one down for a hit," Royals manager Ned Yost said. "We told Lough, 'Hey, be on your toes here. If he puts one down, you've got to get a good jump.' So Dice did a great job."
Alex Gordon followed with a base-clearing double down the right-field line for the 5-0 lead. As he tried to stretch to a triple, Gordon was tagged out at third on the relay from right field.
"A good ballgame until we got to the end of the eighth and things kind of unraveled out there," Gardenhire said. "We couldn't really stop them. The ball kept going their way, the bunts -- you name it, everything -- those stolen bases, the bloops and there you have it, a five spot."
The Twins got one back in the bottom of the eighth. Brian Dozier dropped a double into the left-field corner, allowing Trevor Plouffe, who reached on a single to start the inning, to score from third to make it 5-1.
But with runners on second and third, Chris Herrmann and Justin Morneau ended the threat with back-to-back strikeouts. It's a trend that continues to plague the Twins, as they went 1-for-9 with runners in scoring position.
Butler made it 6-1 as he led off the ninth with a shot to right field, jumping on a 2-1 pitch from Ryan Pressly.
Shields allowed one run on four hits and four walks in 7 1/3 innings. He also struck out seven before giving way to Will Smith in the eighth, who registered the final two outs of the inning.
"I felt great, I felt like I was pounding the strike zone, I gave out more walks than I really wanted to," Shields said. "I thought the pitches were really close but they were balls and I was just trying to be aggressive."
"He's got great stuff," Gardenhire added. "He had a great changeup early in the game and it was diving like a slider. He really used that effectively to get in the fastball counts and being able to throw a changeup and make it dive. He pitched really, really well."
With the loss, the Twins fell to 4-13 against the Royals this season.
"They've improved so much through the year," Correia said. "They have good young hitters. Hosmer is going to be one of the best hitters in the game. He has a good approach and he can cover pitches not a lot of guys can. So it's just a matter of making good pitches."
Kelly Erickson is an associate reporter for MLB.com. This story was not subject to the approval of Major League Baseball or its clubs.