Shields dominant as Royals win third straight
Shields dominant as Royals win third straight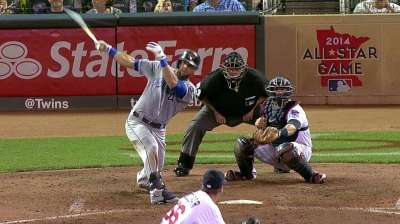 MINNEAPOLIS - James Shields is finally over the .500 mark, the Kansas City club has won three straight games and suddenly all seems right again for the Royals.
At least that dreary seven-game losing skid seems like just a bad memory.
"Yeah, I felt like that yesterday," Royals manager Ned Yost said. "I felt like our bats were back on track and that we had some really good at-bats with runners in scoring position. We just couldn't find a hole."
Shields pitched brilliantly on Tuesday night, holding Minnesota to one hit over the first seven innings, and the Royals found those holes in the eighth inning and defeated the Twins, 6-1, with 27,006 fans sweltering in the heat at Target Field.
Despite being the acknowledged staff leader, Shields has had to battle for personal victories all season since losing the season opener, 1-0, in Chicago. Despite leading the American League with 22 quality starts, it took until now to get his record above the break-even point at 9-8.
"I'm happy with it. I feel like I've got a ton of quality starts this year and I feel like I've pitched well all year," Shields said. "The wins are going to come, but I'm not really too worried about it. As long as we win the game, I'm good to go."
The Royals have won 16 of his 29 starts. They didn't break through on Tuesday night, though, until the eighth inning. That came following Twins starter Kevin Correia's departure, after he'd matched Shields zero for zero for seven innings. But Correia had to keep pitching out of jams to do it.
"Obviously, one hit in one of those situations and they're taking the lead," Correia said. "You're facing their ace, who is a very good pitcher, so you have to throw up as many zeros as you can to try to match him."
So there was no score when right-handed reliever Jared Burton took over for the Twins in the eighth. He got one out, but gave up singles to Salvador Perez and David Lough to put runners at the corners. Lough stole second and Chris Getz dumped a single into short right field, scoring Perez and advancing Lough to third.
"Getzy came up with a big hit to get us rolling and we just went from there," Alex Gordon said. "We just needed one hit to wake us up."
Getz also stole second and Alcides Escobar walked to load the bases, prompting the arrival of left-hander Caleb Thielbar to replace Burton. Jarrod Dyson had a little surprise waiting for him, dropping a bunt that rolled just a few feet from home plate. Catcher Ryan Doumit grabbed the ball, but Lough dodged around him to score and Dyson had a single.
"Bases loaded, one out. I didn't want to get doubled up or strike out or pop up so I thought my chance here is to go with the bunt," Dyson said.
Gordon followed with a wakeup call of his own -- a sharp liner down the right-field line that scored three runs. Gordon tried for third base but was thrown out so he had to settle for a double.
But it was 5-0. After the long wait in the dugout, Shields wasn't quite so sharp in the bottom of the eighth, which started with singles by Trevor Plouffe and Clete Thomas. Those were the Twins' first hits since Josh Willingham singled way back in the second inning.
A low pitch got away from Perez, but the catcher alertly threw out Thomas at second base while Plouffe took third.
"I knew the guy on first base had to wait to see if the guy on second base was going," Perez said. "So he delayed a little bit. I saw that and I knew I had time to make a throw."
After Pedro Florimon walked, Brian Dozier belted a double down the left-field line to end Shields' shutout and left-hander Will Smith was summoned with runners at second and third. One hit in this tight situation and the Twins were back in it.
"Yeah, but we got 'em out. That's my job," Smith said with a smile.
Indeed, Smith struck out both Chris Herrmann and Justin Morneau to stifle the threat.
Billy Butler immediately got the run back by starting the Royals' ninth with a home run, his 14th, to right field off Ryan Pressly. That gave Butler his second straight game with a homer. He is hitting .352 in 39 games since the All-Star break.
So now the Royals, after snapping their seven-game dirge, have a modest three-game streak going. They've still got a lot of ground to make up -- they're seven games out in the Wild Card race -- but at least their bats are cranking again. They've scored 23 runs in the three wins.
"We swung the bats really well," Yost said.
Dick Kaegel is a reporter for MLB.com. This story was not subject to the approval of Major League Baseball or its clubs.