Mets call up den Dekker, will play him some in center
Mets call up den Dekker, will play him some in center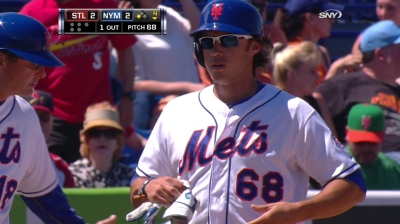 NEW YORK -- When the Mets traded Marlon Byrd to Pittsburgh along with John Buck, it opened up an opportunity for Matt den Dekker. New York selected the 26-year-old's contract from Triple-A Las Vegas on Tuesday, giving the Mets a chance to see a player who they hope could be a part of their future.
After breaking his wrist in Spring Training, den Dekker played 53 games for Las Vegas. He hit .296 with six home runs and 38 RBIs. He had a .486 slugging percentage and a .366 on-base percentage.
"It's hard to describe how that feels, first time getting called up," den Dekker said. "But it felt really good, and I'm just glad to be here."
Den Dekker said Las Vegas manager Wally Backman called him, pitcher Robert Carson and catcher Anthony Recker into his office Monday and told them there was a possibility they were going to join the Mets. Backman told the three of them to go to the airport on Monday where they'd have plane tickets waiting for them, but they still weren't sure if they'd be heading to New York.
Then they were told to get on the plane, and den Dekker said they found out about what happened when they landed in New York at about 5 p.m. ET.
Mets manager Terry Collins said den Dekker will see some time in center field through the end of the season. While Juan Lagares has given the Mets stellar defensive play in center, the team wants to see how den Dekker performs in that role in the Major Leagues.
"Juan's played great, and I will never, ever say anything different," Collins said. "Matt den Dekker is going to play some center field here."
The other option to fill Byrd's void in right field is to employ a platoon of the left-handed-hitting den Dekker and the right-handed-hitting Andrew Brown.
Collins said that's probably what the team's going to do for now, but "that doesn't mean Matt's not playing center."
Trying to replace Byrd's bat in the lineup isn't going to be easy to do. Byrd was hitting .285 with 21 home runs and 71 RBIs.
But general manager Sandy Alderson said having an opportunity to open playing time for other players is one of the benefits of the deal.
"Obviously, the downside is we give up someone like Marlon who's performed very well," Alderson said. "But this does give us an opportunity to see some other people."
Chris Iseman is an associate reporter for MLB.com. This story was not subject to the approval of Major League Baseball or its clubs.