Cecchini headlines Red Sox's AFL roster
Cecchini headlines Red Sox's AFL roster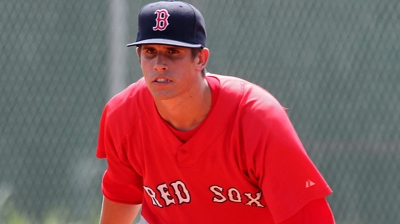 BOSTON -- Will Middlebrooks called his time in the Arizona Fall League in 2011 one of the best baseball experiences he's ever had. Garin Cecchini, the top-rated third base prospect and No. 7 overall in the Red Sox's organization, will get his chance in the AFL this year.
The rosters were announced Tuesday for the star-studded league that is filled with some of the best prospects in baseball each year. About 60 percent of Fall Leaguers have eventually made it to the Majors, and Middlebrooks said it's an experience that a young player can learn a lot from.
"It's tough, because it's right after a season, so you're exhausted," said Middlebrooks, who was a standout in 2011 and participated on the East squad of the AFL Rising Stars game. "But you get out there and you're surrounded by a lot of great players and coaches. ... That was the first time I really got to know other guys on a personal level. It's a lot of fun. I learned a lot just from watching those guys. There are a lot of good players on those teams."
Cecchini, a fourth-round pick who fell in the 2010 First-Year Player Draft due to concerns over whether he would sign, leads a talented group of six players in the Red Sox's organization who will travel to Arizona in early October. Cecchini, who went 1-for-2 with an RBI in the United States' 4-2 win over the World Team in this year's SiriusXM All-Star Futures Game at Citi Field, will be joined by pitchers Keith Couch, Noe Ramirez and Pete Ruiz, along with infielders Derrik Gibson and Travis Shaw. Each Major League club must have seven players represented, so the Red Sox will have one more player to be added before the league begins.
The Surprise Saguaros will host Boston's talented youngsters along with those from the Orioles, Rangers, Indians and Brewers. Rich Gedman, the hitting coach at Double-A Portland, will serve as the hitting coach for the Saguaros.
Former AFL standout Dustin Pedroia is one of 11 Fall Leaguers to win an MVP award.
Jason Mastrodonato is a reporter for MLB.com. Follow him on Twitter @jmastrodonato. This story was not subject to the approval of Major League Baseball or its clubs.