Illness keeps Moustakas out of lineup
Illness keeps Moustakas out of lineup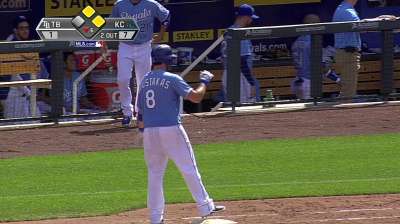 MINNEAPOLIS -- Third baseman Mike Moustakas was out of the Royals' lineup on Tuesday night against the Twins because of illness.
"Moose has got strep throat. He started coming down with it yesterday," manager Ned Yost said. "He felt terrible with the heat and everything and got run down. He came here last night and woke up this morning with a 101 temperature. He's got all the white spots in the back of his throat, very bad sore throat."
With the Twins starting left-hander Andrew Albers on Wednesday night, Yost isn't in a hurry to get the left-handed-hitting Moustakas back in the lineup.
Yost said that Moustakas would come to Target Field for treatment during the game on Tuesday night and probably return to the team hotel to rest.
Moustakas, who has been recovering from a calf injury, was pulled for a pinch-runner in the sixth inning on Monday after getting his second RBI hit in the 11-1 romp over Tampa Bay.
"I got him out after the sixth inning yesterday and it was more to protect his leg. I'm glad I did now," Yost said.
Dick Kaegel is a reporter for MLB.com. This story was not subject to the approval of Major League Baseball or its clubs.