Niese does it all in second career shutout
Niese does it all in second career shutout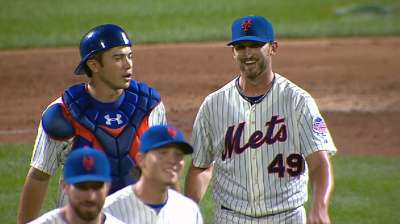 NEW YORK -- This was the type of performance that alleviated the concerns, if only temporarily. With so much uncertainty ushered in over the past two days, Jon Niese provided a reminder of the hope the organization and its fans have been clinging to. Niese figures to be a key piece to the Mets' future, and proved why on Tuesday.
"It gives you big hope," Mets manager Terry Collins said. "We had huge expectations in the beginning of the season for Jon Niese."
Niese was sensational, giving the Mets a spark on the mound with his second career shutout, and at the plate with a three-run double to lead New York to a 5-0 win over the Phillies at Citi Field. He threw his third career complete game, allowing only three hits and one walk while striking out five.
Over the past two days, adversity has taken the place of hope. Matt Harvey is almost certainly out for the rest of this season with a partial tear of the ulnar collateral ligament in his right elbow. He could miss all of next season if he and the team decide he should undergo Tommy John surgery.
Then on Tuesday, the Mets traded Marlon Byrd, John Buck and cash to the Pirates in exchange for prospect Dilson Herrera and a player to be named. Byrd was the team's top run producer and Buck was the team's veteran catcher who helped ease its young pitchers into the big leagues.
So Niese's performance Tuesday helped soften the disappointment for at least one night.
"It was just an overall great win for us today. After getting the news with Harvey, it's kind of one of those things where we need to press on and do our jobs and pray for him, speedy recovery," Niese said. "We still have a little over a month left this year, so we want to finish strong."
The Mets scored their first run in the third inning. With one out, Niese walked and Eric Young Jr. moved him over with a sacrifice bunt. Daniel Murphy then drove Niese in with a single to right field to put the Mets on top.
Third-base coach Tim Teufel actually put up a delayed stop sign, but Niese ran through it and managed to score standing up.
"It was kind of too late," Niese said. "I had my mind set on getting home, and by the time I saw the stop sign, it was too late. I kind of held up a little bit, but just kept going."
Whether he was on the mound, on the bases or at the plate, everything was slanted in Niese's favor.
Andrew Brown singled to lead off the sixth inning. Ike Davis then hit a ground ball to first base that Kevin Frandsen fielded and threw to second to try to begin a double play. But his throw was wide and it sailed into the outfield, allowing Brown to go to third and Davis to second.
After retiring Wilmer Flores, Phillies starter Kyle Kendrick intentionally walked Juan Lagares with first base open. With the bases loaded, Travis d'Arnaud hit a sacrifice fly to center field to give the Mets a 2-0 lead.
With Niese on deck, Kendrick walked Omar Quintanilla to load the bases once again. But Niese can actually swing the bat well for a pitcher, and he proved it. He smoked a bases-clearing double into left-center field that put the Mets up, 5-0.
Niese provided himself with run support that he didn't really need.
The Phillies couldn't solve him. After he allowed a leadoff single to Michael Young in the second inning, Niese retired the next 17 batters he faced. That carried him all the way to the eighth, when Young led off with a double.
"We've seen him a couple times, but that was easily the best we've seen him," Young said. "He was tough tonight."
Niese struck out Darin Ruf and Frandsen and got John Mayberry Jr. to fly out to end the inning and strand Young at second.
Collins let him go back out in the ninth.
Niese issued a two-out walk to Jimmy Rollins, but retired Chase Utley to nail down the shutout. Niese threw 113 pitches in his sixth win of the season.
All of this comes after Niese was sidelined with a partially torn rotator cuff that caused him to miss almost two months of the season. In his four starts since coming off the disabled list on Aug. 11, Niese is 3-0 with a 1.93 ERA.
It's been a rough couple of days for the Mets, but Niese's night reaffirmed and reminded the organization of any optimism that might've lessened.
"Jon Niese gave us what we needed tonight," Collins said, "and that's a great performance."
Chris Iseman is an associate reporter for MLB.com. This story was not subject to the approval of Major League Baseball or its clubs.