Barton returns to A's with a more positive outlook
Barton returns to A's with a more positive outlook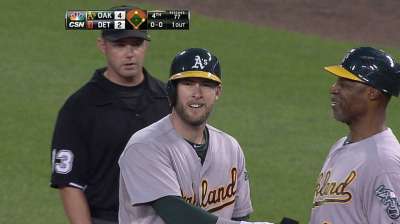 DETROIT -- It's been three years since Daric Barton drew consistent playing time in the big leagues, his numbers having since dissipated.
Yet Barton, back with Oakland for a second time this season after hitting .297 in 110 games for Triple-A Sacramento, is in better spirits than ever. That's because his mindset has become his utmost priority.
"You know what? Besides being healthy, that's been the biggest thing," said Barton, recalled Monday to take the injured Josh Reddick's roster spot. "It was the only thing. It was the only thing I focused on all year, really the mental aspect of not just my play on the field but off it as well, having a consistent approach not just to baseball but to life, trying to stay positive and to do what I can that day. I learned to turn the page real quick on bad days."
Barton, 28, had plenty of bad days with the A's, and he subsequently fell out of favor with the organization that once touted him so highly. Twice he's been outrighted. Yet he's still here, and on Monday he celebrated his return with a two-hit, two-RBI night in an A's win in Detroit.
It marked his first action with the A's since May. And with September just days away and rosters soon expanding, he's likely here to stay, providing the club with a sure-handed glove at first base while Brandon Moss helps out in right field in Reddick's stead.
"Being called up twice, I never expected it -- the first time, let alone now -- so it was a pleasant surprise," Barton said. "Now I'm going to try to do what I can to help the team win, just be myself, whatever happens happens, not worry about the outcome and take every day as a new day and just kind of enjoy it. I don't know how much longer I'll be here, depending on what happens next year, so I'm grateful to be here now, and I'm just looking forward to having fun and doing what I can to make the playoffs.
"It's a great opportunity for me to show them that I can still play. I haven't gone anywhere."
Jane Lee is a reporter for MLB.com. This story was not subject to the approval of Major League Baseball or its clubs.