Harvey injury has Redmond reflecting on Fernandez
Harvey injury has Redmond reflecting on Fernandez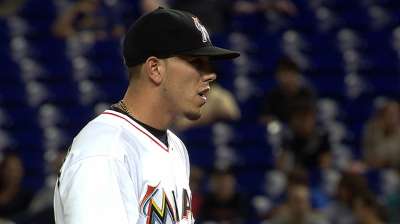 WASHINGTON -- When news broke Monday that Mets starter Matt Harvey has a partially torn ulnar collateral ligament and could require Tommy John surgery, Marlins manager Mike Redmond thought of his own young ace, Jose Fernandez.
Miami will shut down Fernandez as a precaution after he reaches 170 innings, likely after two more starts. Redmond said that Harvey's injury reinforced his belief in the Marlins' course of action with Fernandez.
"I think it does. But like I said, Harvey had a pitch limit, too," Redmond said. "You don't know. That's the thing. They were going to shut him down around 205 innings, whatever, and he's a couple years older than Jose, so in their mind that was the right thing to do. And he still got hurt.
"Everybody has the same goal in mind, and that's to protect the player and try to do what's best for the player. But saying that, you can sit there and think about how you're going to best protect the player until you're blue in the face, and sometimes guys get hurt. That's just the way it goes. That's baseball."
Fernandez was named the co-National League Player of the Week on Monday, the second time he's won in the past four weeks. He was 2-0 with a 0.69 ERA in two starts, allowing just one earned run in 13 innings.
"I don't really think about that stuff," Fernandez said. "As long as I keep giving my team a chance to win, co-Player of the Week, Rookie of the Year, all that stuff, I don't care. It's just play for this team, and as long as we win, that's what I care about."
Redmond said that Fernandez would "probably" make only two more starts before being shut down for the rest of the season, adding that he will not treat the 21-year-old any differently.
"If his next start, he's got a chance to win and he goes eight innings, he goes eight innings," Redmond said. "I'm going to use him the same way I have all year. And when he reaches that limit, that's it."
Tom Schad is an associate reporter for MLB.com. This story was not subject to the approval of Major League Baseball or its clubs.