Coghlan likely to join Marlins on Sunday
Coghlan likely to join Marlins on Sunday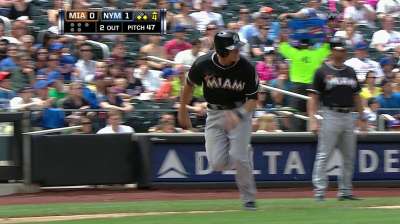 WASHINGTON -- Manager Mike Redmond said Tuesday that Chris Coghlan has been promoted to Triple-A New Orleans and should rejoin the Marlins when rosters expand on Sunday.
Coghlan, who has been on the disabled list since early June with a right calf injury, played third base at Class A Jupiter and will continue to play there at Triple-A. In nine games at Class A, he hit .185 with one triple and two RBIs.
The 2009 National League Rookie of the Year, Coghlan has almost exclusively been an outfielder at the Major League level. But with with Christian Yelich now in left field and Jake Marisnick in center, Redmond wants to see if Coghlan could factor into the team's long-term plans somewhere else.
"From what I've heard, things are going well and he's progressing," Redmond said. "I think it's a situation where it's a chance for us to get a look at him at another position. We're always trying to figure out where we can utilize his ability. We know he can play the outfield, and we know he was an infielder, so we thought we'd put him at third and give him a shot and hope that it works."
Tom Schad is an associate reporter for MLB.com. This story was not subject to the approval of Major League Baseball or its clubs.