Tigers struggling to keep teams from stealing bases
Tigers struggling to keep teams from stealing bases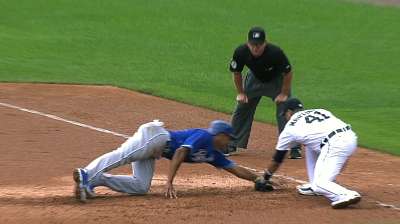 DETROIT -- The Tigers have thrown out only 19 percent of potential basestealers, the lowest mark in the American League. In fact, opposing teams have successfully stolen 17 straight bases against Detroit, with only one runner picked off in that span.
Manager Jim Leyland said there are several reasons behind that problem, including pitchers not doing a good enough job holding runners close to first base.
"We're trying to get guys to vary their times," Leyland said. "Hold the ball a little bit more. But sometimes guys just can't get under 1.4, 1.5 [seconds in their delivery]. If they go home and the guy goes at the right time, they're going to beat it."
The Royals, who lead the Major Leagues with 115 stolen bases entering Tuesday, swiped nine bags in a recent five-game series against Detroit. The Tigers have surrendered 105 stolen bases this season, which is tied for the second-highest total in the Majors. The Red Sox have allowed 110, while the Angels also have given up 105.
Ultimately, it's a balancing act for teams to weigh how much focus they want their pitchers to have on baserunners versus the hitters at the plate. The Tigers give signs for their pickoff moves, so pitchers don't have to split their concentration between the two.
"They all are capable [of holding runners better]. I think a lot of it's a mental thing," Leyland said. "It's hard to break habits. In college, a lot of times it didn't matter because they struck the next three guys out. Up here, it becomes a little different."
Jason Beck is a reporter for MLB.com. Read Beck's Blog and follow him on Twitter @beckjason. Bobby Nightengale is an associate reporter for MLB.com. This story was not subject to the approval of Major League Baseball or its clubs.