Struggling Hellickson optioned to rest for stretch run
Struggling Hellickson optioned to rest for stretch run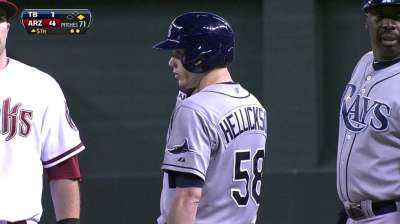 ST. PETERSBURG -- The Rays optioned Jeremy Hellickson to Class A Advanced Charlotte on Tuesday to get him rested for the September stretch.
"He's well, physically, but we just thought that giving him a break would be really important right now," Rays manager Joe Maddon said. "Obviously, the more recent performances have not been great. And the fact that he is not injured, we thought the next-best thing to do would be to give him a break. And so we did that. ... He'll be ready to come back the first part of September."
Hellickson can return in as early as seven days, since Charlotte's season should be concluded by then.
Hellickson perpetuated a disturbing trend on Monday against the Royals when he failed to complete five innings for the fifth time in his last six starts. The right-hander was gone after just 2 2/3 innings and the Royals were already up, 5-0, and in cruise control en route to an 11-1 win.
He is now 10-8 on the season with a 5.21 ERA after getting off to a 10-4 start, which was fueled largely by his work from June 2-July 26, when he went 8-1 with a 3.17 ERA.
"We don't want him to throw [at Charlotte]," Maddon said. "Throw maybe a bullpen or something like that. Minimal usage with the arm. We think, or feel, as though he's going to be very important to us in September and October, hopefully."
Left-hander Jeff Beliveau was recalled from Triple-A Durham to fill Hellickson's roster spot. Maddon said he does not yet know who will start Saturday at Oakland, which would have been Hellickson's turn in the rotation.
Maddon noted that the options to fill Hellickson's slot will not be external, which means the likely substitute will come from Durham.
Meanwhile, Matt Moore is still scheduled to make a Minor League start on Thursday for Durham at Gwinnett.
"We think the weather is going to be better there," Maddon said after Tuesday's 6-5 loss the Angels. "We just don't want that to be rained out. That would really injure our plans. We just have to send him somewhere we believe he will pitch."
If all goes well, Moore is set to return on Sept. 3, which is David Price's day. Price would get an extra day.
Bill Chastain is a reporter for MLB.com. Sam Strong is an associate reporter for MLB.com. This story was not subject to the approval of Major League Baseball or its clubs.