Rays sending eight players to Arizona Fall League
Rays sending eight players to Arizona Fall League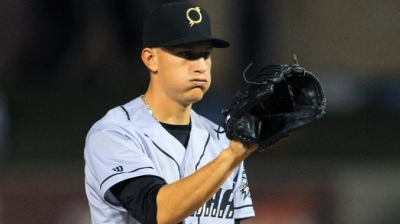 ST. PETERSBURG -- Rosters for the Arizona Fall League were announced Tuesday, and the Rays will send eight players west to play for the Salt River Rafters.
"The Arizona Fall League is a great place for our players to get extra innings pitched, at-bats after the regular season -- it helps them all hone in on their individual areas that they can improve on," Rays farm director Mitch Lukevics said.
Highlighting the participating players from the Rays' organization are the Rays' No. 8 No. 9 prospects as ranked by MLB.com, left-hander Mike Montgomery and infielder Richie Shaffer. Montgomery came to the Rays from the Royals in the big James Shields trade. He is said to have three above-average pitches, but has been haunted by command issues.
The Rays selected Shaffer from Clemson in the first round of the 2012 First-Year-Player Draft. He has a power bat and has played third and first in the past. In addition, he is athletic enough to play right field.
Other players from the Rays organization going to the AFL include: Pitchers Grayson Garvin, Merrill Kelly and Matt Ramsey; infielder Ryan Brett, outfielder Todd Glaesmann and catcher Curt Casali.
"When you send kids out there, whether it will be Richie Shaffer, that we want to get him some more at-bats, which helps, or Grayson Garvin, who's a high pick, who had Tommy John surgery, we can get some more innings for him, or Mike Montgomery," Lukevics said. "We're getting him out there to work more on his cutter and get that developed as much as he can. Next year we're not going to work on some of these things where we can get it done now."
In addition to the players from the organization, Double-A Montgomery coach Ozzie Timmons will join the River Rafters as the hitting coach.
Rosters for the six-team league include 33 first-round Draft choices. This year's league also includes players from nine foreign countries -- the Dominican Republic (12), Cuba (6), Nicaragua (2), Venezuela (2), Colombia (1), Curacao (1), Germany (1), Mexico (1) and South Africa (1) -- and Puerto Rico (3).
Each Major League organization is required to provide seven players subject to the following eligibility requirements:
• All Triple-A and Double-A players are eligible, provided they are on Double-A rosters no later than Aug. 15.
• Each organization is permitted to send two Class A Advanced-level players in addition to the current allowance of two "A-exempt" players (who are under contract as of Aug. 15). Foreign players are allowed as long as the player is not on his native country's primary protected-player list.
• No players with more than one year active or two years total of credited Major League serviceas of Aug. 31 (including Major League disabled-list time) are eligible, except a team may select one player picked in the most recently concluded Major League Rule 5 Draft.
• Each team is allotted 20 pitchers, but only 15 are designated "eligible" each game day.
The Arizona Fall League is owned and operated by Major League Baseball. Games are played Monday-Saturday in five Cactus League stadiums in the Phoenix area -- Camelback Ranch-Glendale (Desert Dogs), Mesa Hohokam Stadium (Solar Sox), Salt River Fields at Talking Stick (Rafters), Scottsdale Stadium (Scorpions) and Surprise Stadium (defending champion Javelinas and Saguaros). Daily start times are 12:35 p.m. and 6:35 p.m. Opening Day is Oct. 8 at Scottsdale Stadium.
Bill Chastain is a reporter for MLB.com. Sam Strong is an associate reporter for MLB.com. This story was not subject to the approval of Major League Baseball or its clubs.