Hamilton makes sentimental stop on off-day
Hamilton makes sentimental stop on off-day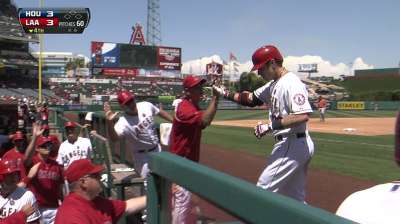 ST. PETERSBURG -- The Angels had an off-day here on Monday, so Josh Hamilton, his wife, Katie Chadwick, and his two oldest daughters, Julia and Sierra, made the 35-minute drive to Clearwater, Fla., for some fishing off the Gulf of Mexico.
After they packed up the rods, they had one more destination: Jack Russell Memorial Stadium, home to "The Winning Inning Baseball Academy" that's run by Roy Silver and Randy Holland, two of the most instrumental people in Hamilton's storybook return to baseball.
"Grace and mercy" are the emotions Hamilton feels every time he goes back there.
"Just having the opportunity for God to put me in a place and put me in a relationship with two guys that love the game that I love, and understand life and that things happen," Hamilton said of the experience. "It just brings back those memories of where I was and the place in my life where I was still struggling."
It was January 2006. Hamilton had worked his way back from the four-year, harrowing drug-and-alcohol addiction that prompted him to receive six suspensions and get banned from baseball for three full seasons. He was staying at his grandmother's house in Raleigh, N.C., when he told a local reporter he was ready to play baseball again.
Silver, formerly a Rays Minor League coach, and Holland, an ex-trainer for the Blue Jays, saw the story, invited Hamilton to their facility and for two months gave him the structure he had been missing. If he didn't memorize his Bible verses, he couldn't hit in the batting cages. If he didn't finish his chores -- be it scrubbing toilets or taking out garbage or raking the field -- he couldn't be, as he put it, "rewarded by doing something that I love."
"It gave me a sense of what my priorities should be," Hamilton said. "I do well with structure. Obviously, that was one thing when I was out of baseball that hindered me -- there was no structure there. So I was just always looking, trying to fill it with something."
The short stint at the facility kick-started Hamilton's return to baseball. He played 15 games for the Rays' Class A affiliate that season, was left unprotected in the Rule 5 Draft later that winter, had a successful rookie season with the Reds in 2007 -- eight years after the Rays made him the first overall pick -- and then went on to the five-year run in Texas that earned him a five-year, $125 million contract with the Angels.
Hamilton, still trying to prove his value in Anaheim, has "mixed feelings" every time the baseball schedule takes him to Central Florida.
Bad ones, of the tattoo parlor in Bradenton where his drug addiction began.
Good ones, of the Clearwater baseball facility that gave him a chance.
"I always remember details, but I try not to harp on them or think about them," Hamilton said. "You just realize they're there and help make up some of the story."
Alden Gonzalez is a reporter for MLB.com. Read his blog, Gonzo and "The Show", and follow him on Twitter @Alden_Gonzalez. This story was not subject to the approval of Major League Baseball or its clubs.