Orioles reinstate Betemit, option Flaherty
Orioles reinstate Betemit, option Flaherty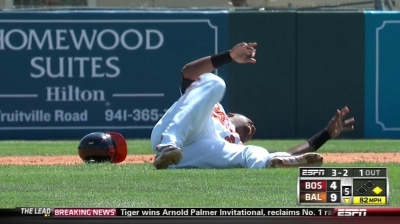 BOSTON -- It's been a long road for designated hitter Wilson Betemit, who was activated from the disabled list prior to Tuesday's series against the Red Sox, more than five months after a right knee injury threatened to end his season.
"I was positive all year, positive that I could come back and I'm here," said Betemit, who exited a March 25 Grapefruit League game on a cart and was later diagnosed with a posterior cruciate ligament (PCL) tear in his right knee. "My first time running was a scare. First, I think, 'Well, if you hit a double and have to turn at first base, how am I going to feel?' But I feel good."
Betemit, who is expected to start against Boston right-hander John Lackey on Wednesday, took balls at first and third base on Tuesday afternoon, although he'll likely be used as a platoon designated hitter and bat off the bench. A switch-hitter, Betemit owns a .281/.349/.474 line over his career against right-handed pitching, including a team-leading .302 average last season.
"If you had told me when I was walking out there [when the injury occurred] that Wilson would be joining us in August, I would have been real surprised," manager Buck Showalter said. "So good for him."
To clear a roster spot, the Orioles optioned second baseman Ryan Flaherty to Class A Delmarva.
Why Delmarva? The Orioles can't bring back Flaherty as a September callup unless he's at an affiliate that's done playing, so the Keys -- as opposed to their Double-A and Triple-A teams -- makes the most sense. The O's couldn't send Flaherty to the Gulf Coast League, which ends Thursday, because Flaherty has too much Minor League service time. So barring an injury, this was the move that gets Flaherty back with Baltimore the quickest with Delmarva's season ending on Monday.
"I talk to our players about it. They understand," Showalter said of his conversation Tuesday afternoon with Flaherty. "If we were in a little bit better position with our starting pitching, we would have tried to look in a different direction. We've seen this coming for two or three days and ran about seven scenarios around. This one fit the best for where we are now. Keep all the pieces in place."
Flaherty, 26, has put together a .218/.280/.364 batting line with eight home runs and 20 RBIs in 75 games for the Orioles this season.
Brittany Ghiroli is a reporter for MLB.com. Read her blog, Britt's Bird Watch, and follow her on Twitter @britt_ghiroli. This story was not subject to the approval of Major League Baseball or its clubs.