Beachy relieved elbow problem is inflammation
Beachy relieved elbow problem is inflammation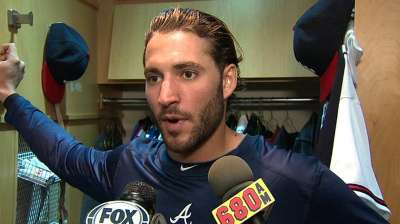 ATLANTA -- When Brandon Beachy visited Dr. James Andrews on Monday, he knew there was at least a chance that he would need to undergo a second Tommy John surgery. But Beachy's worst fear was erased when the noted surgeon informed him that his recent right elbow discomfort has simply been a product of inflammation.
Beachy will continue to rest his arm for the next 10-14 days before gaining the potential to pick up a baseball again. While this timetable will certainly limit his opportunities to pitch this year, this development was certainly better than the alternative.
"There was some nervousness and then some relief," Beachy said. "It's not fun going down there. It's just kind of a sullen atmosphere down there. You see a lot of guys walking in who know they are going to be walking out with new scars on their bodies."
Beachy became one of those individuals last year, when he underwent Tommy John surgery and endured the yearlong rehab process that follows. His road back has not been an easy one. Beachy was sidelined with elbow inflammation in June and then made five Major League starts before being shut down again last week, after the last three fastballs he threw against the Mets registered at 85 mph or below.
While Beachy was concerned with the sudden drop in velocity, he said last week that he was confident he would pitch again this year.
"We just have to see how quickly it responds," Beachy said. "It's already feeling better than it did a couple days ago. But that doesn't mean anything either. We'll just have to play wait and see for a little while. Then, whatever happens, happens. I'm just excited and relieved and hoping I can help this team."
Under the best-case scenario, Beachy likely would not be ready to pitch again before the second half of September arrives. This provide some reason to wonder if the Braves will opt to use him as a reliever during the latter portion of the regular season. Manager Fredi Gonzalez said it was too early to speculate on this possibility.
"I think of myself as a starter and I plan to be a starter in the future," Beachy said. "But I'm no dummy. You look at the timing of everything. I'm willing to help this team any way I can."
Mark Bowman is a reporter for MLB.com. Eric Single is an associate reporter for MLB.com. This story was not subject to the approval of Major League Baseball or its clubs.