Bucs lose ground in Central after Locke's rough start
Bucs lose ground in Central after Locke's rough start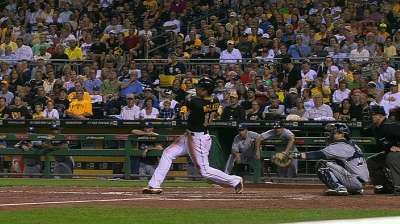 PITTSBURGH -- Clint Hurdle has played hunches, and has gone with his gut as well as with the numbers. The Pirates manager has been right most of the time, as evidenced by his club's high standing.
But he was wrong in his prediction before the game for Jeff Locke on Tuesday night, when he anticipated a turnaround effort by the left-hander.
"He's anxious to go out there and get straight. And I believe he will," Hurdle said before Locke took the PNC Park mound to confront Milwaukee, and his own tribulations.
The Brewers and the tribulations both won.
Locke did not lose -- except possibly his spot in the rotation. The Bucs fought out of the early hole he dug, and kept coming back, but the All-Star left-hander's ongoing breakdown survived as the game's top takeaway after the Brewers clawed back for a 7-6 victory on pinch-hitter Caleb Gindl's tiebreaking sacrifice fly off Bryan Morris in the eighth.
The Pirates, who have lost three in a row, are 1 1/2 games behind the Cardinals, who beat the Reds on Tuesday, for first place in the NL Central.
"We'll sit down in the next day or two and see what his takeaway from this is," said Hurdle, sympathetic to the ill luck that abetted Locke's undoing.
A couple of infield singles loaded the bases and led to a first-inning run. Aramis Ramirez, an inning after unloading his 350th career homer, doubled for two runs off the tip of left fielder Jose Tabata's glove for a 5-0 Milwaukee lead in the fifth.
"Yeah, those things seem to happen to you when things aren't going well," Locke said after remaining with one win in his last eight starts. "But bottom line, you've got to pitch better than that."
The Bucs thus squandered huge games from Pedro Alvarez, whose second career four-hit game included his 32nd homer, and from Neil Walker, who brought the home crowd to life and Pittsburgh nemesis Kyle Lohse closer to ruin with a three-run homer in the fifth.
The Pirates wound up with 15 hits after entering the fifth being blanked on four hits by Lohse, who started the game with a career mark of 9-2 against the Bucs. At that point, the Pirates were riding a 16-inning scoreless streak.
"After getting shut out in San Francisco, there was some talk of, 'Enough's enough. Let's put some runs on the board,'" Hurdle said.
Alvarez erased the Bucs' penultimate deficit with a seventh-inning home run off Rob Wooten that hit off the right-field foul pole to make it 6-6.
As they did in San Francisco, where Locke's four-inning stagger turned into a 10-5 win over the Giants, the Bucs went to work in the fifth inning on removing him from another giant hook.
It took a break to get them on the board -- pinch-hitter Felix Pie's two-out smash to right-center kissed off the glove of right fielder Nori Aoki, who later said he briefly lost the ball in the lights. That chased home Andrew Lambo, who was aboard via a single.
And the Pirates kept hitting lasers off Lohse: Jose Tabata singled (gloved by second baseman Scooter Gennett, but without a play) and Walker followed with a shot over the right-field stands to draw the Bucs within one at 5-4.
"I feel bad for what I did to Kyle," Aoki said through an interpreter, alluding to how the inning spun out of hand. "This team [the Pirates], they can gain momentum at any time, and they actually did at that moment.
"It did feel good," Walker said of his ninth home run of the season. "We were quiet for most of the first half [of the game], so it was nice to put up a four-spot. But it was a strange, back-and-forth game."
By all rights, the Pirates should have drawn even in that fifth, as it continued with Andrew McCutchen's single being followed by Alvarez's booming drive to left-center. But when the ball bounced into the stands for a ground-rule double, McCutchen had to stop at third -- and then watch Russell Martin hit another rope to left for the third out.
The Bucs have gotten way too good at that play. Alvarez himself had two identical weekend drives in AT&T Park that cost his team some runs.
"Yeah, that's a play that's kinda hung in our pocket the last week," Hurdle said. "We strike the ball in the gap, it bounces out of play -- and we leave the guy at third."
Hurdle had a tougher time dealing with the missed opportunity the next inning: Three consecutive singles -- the last by Pie to chase Lohse -- tied it at 5-5, and the Pirates still had runners at the corners with one out.
Wooten entered, and retired pinch-hitter Garrett Jones on a popup and struck out Walker.
"We actually put ourselves in position to go ahead -- which would've changed the dynamic of bullpen use into the seventh -- but weren't able to convert, to drive in the runner from third with less than two outs," Hurdle said.
The glow of a stirring comeback was briefly dimmed in the seventh, when the Brewers snapped the tie at the expense of another young lefty. Justin Wilson's leadoff walk of Aoki eventually came back to haunt him on Ramirez's two-out single for his fourth RBI.
Locke turned potential disaster into a positive in the first inning, when the Brewers began the game by loading the bases with none out, but were turned away with only one run, on Ramirez's double-play grounder.
One thing Locke has been consistent about is keeping the ball in PNC Park, but when he allowed his seventh homer here in 69 innings, it was noteworthy: Ramirez took him out over the North Side Notch for No. 350 of his career, giving the Brewers a 2-0 lead in the fourth.
Ramirez was also the centerpiece of the three-run rally that gave Milwaukee a 5-0 lead and Locke the boot, with a two-run double over Tabata's leap.
"It depends how you look at things," Hurdle said, reflecting on Locke's night. "They scratch out a run in the first. The homer's a homer. We had a chance to maybe make a play in left field [on Ramirez's double] and limit the damage. But, certainly, the overall consistency [from Locke] is short of what we've seen."
The Pirates offensive awakening couldn't diminish Locke's continuing struggles. He faced 22 men, and 10 of them reached base.
For the third straight start, Locke could not make it through five innings, and in the 11 1/3 innings across those three starts, he has allowed 23 hits and 16 runs.
Tom Singer is a reporter for MLB.com and writes an MLBlog Change for a Nickel. He can also be found on Twitter @Tom_Singer. This story was not subject to the approval of Major League Baseball or its clubs.