Davis softens stance on position change
Davis softens stance on position change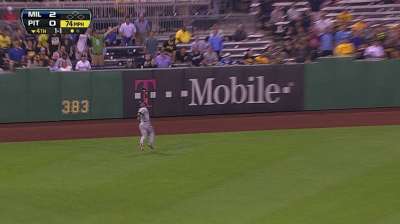 PITTSBURGH -- Back in Spring Training, then-Brewers outfield prospect Khris Davis all but dismissed the notion of switching positions, saying he had tried first base in the 2010 fall instructional league.
"It didn't go too well," Davis said then. "I think I'm an outfielder in my blood."
But now that he has gotten a taste of the Major Leagues and has thrived since taking over for the suspended Ryan Braun, Davis sounds more open-minded. With Braun expected back next season, and the rest of the Brewers' outfield set, Davis was asked again on Tuesday whether he would consider a switch.
This time, Davis said, "Whatever keeps me in the bigs."
With each quality at-bat, he is making club officials including manager Ron Roenicke, ponder whether Davis might not be "just a left fielder," after all. The 25-year-old entered Tuesday on an 11-game hitting streak, batting .432 in those games with five home runs, and has impressed Roenicke with a calm and patient approach at the plate.
First base happens to be the Brewers' most uncertain position heading into 2014.
"You could" consider a position change, Roenicke said. "They tried him at first base, is the thing, and it didn't go well. I don't know why. I haven't really asked that much into it. But I think with what we're seeing, and if we continue to see this, we're going to have some discussions on what we can do."
For now, Davis remains an outfielder.
"He does a good job in the outfield, that's the other thing," Roenicke said. "He runs down the ball well, and I think I can put him in right field and not worry about it. The arm, OK, it's not a right fielder's arm, but how much does it really come up? It doesn't come up enough that I can't put him out there to start in right field for a game, or a few. A season, you've got to look at it."
Davis' hitting streak was snapped in Tuesday's 7-6 win over the Pirates, as he went 0-for-5. But he made a nice running catch in the fourth to rob Andrew McCutchen of extra bases.
Adam McCalvy is a reporter for MLB.com. Read his blog, Brew Beat, and follow him on Twitter at @AdamMcCalvy. This story was not subject to the approval of Major League Baseball or its clubs.