Seventh wonder: Victorino powers rout
Seventh wonder: Victorino powers rout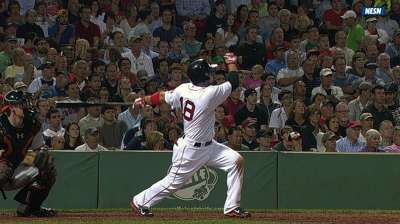 BOSTON -- His swing is part Ichiro Suzuki, part lumberjack and part natural born-with-it talent. And the results usually match the role: Shane Victorino is the table-setter.
Victorino changed roles on Tuesday night. He still fulfilled his usual duties, reaching base all five times up. But he also crushed two homers and a ground-rule double, finishing with four runs and seven RBIs as the Red Sox rolled to a 13-2 victory to open a three-game series with the Orioles.
"I don't know that you can do much better," manager John Farrell said of Victorino's performance.
The win pushed the Red Sox's lead over the Rays in the American League East to 2 1/2 games. While the Yankees simultaneously beat the Blue Jays, 7-1, the O's fell to 6 1/2 back of the Sox with just a one-game cushion in front of the Yanks.
With 29 games remaining, Tuesday marked the beginning of crunch time. With the September 2011 crash just two years old, those in the Red Sox's clubhouse hasn't forgotten how important these divisional games are.
"Every game is big now," said Dustin Pedroia.
While the entire Red Sox's offense was potent against Orioles lefty Wei-Yin Chen, knocking him around for eight runs before scoring five more off Baltimore's relief corps, Victorino led the charge with perhaps the best game of his 10-year Major League career.
In chronological order, Victorino walked, lined a two-run homer to left, got hit by a pitch, smashed a three-run homer to left and knocked a two-run ground-rule double to right. The home runs were his 10th and 11th of the season while they marked his 100th and 101st of his career. With his unorthodox slap-style swing, Victorino's power has the ability to surprise.
"At this point," said outfielder Jonny Gomes, "with 11 [home runs] under his belt, his power isn't sneaky anymore."
Asked if he thought opposing pitchers underestimated his home-run hitting ability, Victorino said, "I don't know," and "I don't pay attention to that."
After some doubted if the 32-year-old had enough left in the tank to earn his three-year, $39-million contract he signed in the offseason, Victorino has proved that he might actually be worth much more. He entered Tuesday's game ranked 23rd among MLB hitters with 4.3 wins above replacement -- worth about $21.5 million on the common belief that each 1.0 WAR is worth about $5 million.
"There are always going to be doubters," said Victorino, a switch-hitter who has been hitting exclusively right-handed while dealing with a left hamstring injury. "You can't please everybody. But if I can go out there every night, do my best, come inside, look myself in the mirror and say I gave 100 percent, that's the only person I need to answer to."
The Red Sox scored at least one run in five separate innings, putting up five in a monstrous fourth inning that sealed Chen's fate and sent O's manager Buck Showalter signaling to the bullpen.
Joining Victorino in the lopsided win, Mike Napoli hit a ball so high and hard off Chen that catcher Matt Wieters didn't bother to look, instead turning his head away as if he was avoiding a gruesome scene in a horror movie. Napoli's homer cleared everything in left field and landed on the roof of a parking garage on Lansdowne Street.
"We got our butts kicked tonight and there's no doubt about that," said Wieters.
Jacoby Ellsbury reached base three times and scored three times. Pedroia had three hits.
Felix Doubront baffled the Orioles with dancing breaking balls and corner-painting fastballs, striking out seven in 6 2/3 innings of work while allowing just two runs.
The only blemish on his scorecard was a two-run third inning in which he momentarily lost command and appeared to be getting squeezed by home-plate umpire Wally Bell. Doubront allowed two singles, followed by a hit-by-pitch, a walk and a sacrifice fly. That was all the Orioles could muster off the lefty, who has allowed three earned runs or less in 18 of his last 19 starts.
Chris Davis, who entered with a .304 average and 46 homers, was 0-for-3 off Doubront. Adam Jones and Manny Machado also went hitless against the southpaw.
"It's late in the season. Those bats are getting tired," Doubront said. "I was working my fastball. I was feeling good. Throwing the ball down was the most important for me the last two outings. It really was working today."
Doubront's solid effort only continued the impressive performance by Boston's starting staff, which has a 1.36 ERA over its last seven games.
Only it was trumped by the offense in this one.
The game was so out of reach by the eighth inning that the Orioles replaced the majority of their defense with replacements off the bench. The Red Sox even tried out Will Middlebrooks at second base during the ninth inning and gave top prospect Xander Bogaerts his first appearance at Fenway Park at third.
Jason Mastrodonato is a reporter for MLB.com. Follow him on Twitter @jmastrodonato. This story was not subject to the approval of Major League Baseball or its clubs.