Chen's worst start leads to blowout loss
Chen's worst start leads to blowout loss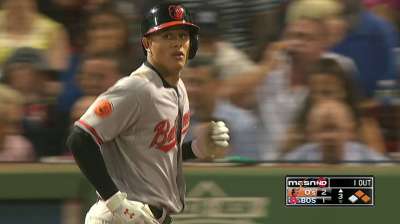 BOSTON -- Wei-Yin Chen turned in the worst start of his career Tuesday night, and the Orioles paid dearly for it.
Coming off Sunday's series win over the A's that brought them within two games of the American League Wild Card, the Orioles squandered a chance to gain ground, starting a pivotal three-city road trip off with an ugly 13-2 loss to the AL East-leading Red Sox. Chen was batted around for a career-high eight runs over a career-low 3 2/3 innings and allowed eight hits and three walks in a disappointing 82-pitch outing that paved the way for a poor night of pitching all around.
"It's my personal fault," Chen, speaking through his interpreter, said of the defeat, which puts the Orioles 3 1/2 games behind Oakland for the second AL Wild Card Spot. "From the beginning of the game, I tried to make adjustments. Today just wasn't my day. It's really hard for me and [a] really tough loss."
The Orioles, who set a new season high in runs allowed this season, tied their most lopsided loss of the season with the 11-run margin, and the clubhouse afterward was already eager to move on.
"Wei-Yin has been very consistent for us and very good for us," catcher Matt Wieters said of Chen, who had allowed more than three earned runs just twice in his first 16 starts this year. "That's why it's not hard to say it's just a blip on the radar. He works harder than anybody, and everybody is going to have them at some point. You're going to have bad days, and the biggest thing is learn from it and move on.
"We got our butts kicked tonight and there's no doubt about that, but it's over now. We're [looking] forward and we're ready to go tomorrow. It's just a loss now -- whether we lost 2-1 or like we did tonight. It's one loss and we'll move forward."
"It wasn't a fun, pleasant game, but it's over with," added center fielder Adam Jones. "Obviously we knew this trip [was important] ... and this team is playing good. We've got to bring it. We've got to be better."
Things couldn't have gone much worse Tuesday for Chen, who agreed the outing was the worst game of his career. After allowing a first-inning run, the 27-year-old surrendered a two-run homer to Shane Victorino, who finished with a career-high seven RBIs, in the third. Mike Napoli opened the following frame with a solo blast and Chen allowed a single and a walk before recording the first out. After the Orioles were able to get an out on the basepaths by catching Stephen Drew in a rundown following Jacoby Ellsbury's single, Chen hit Victorino with a pitch to load the bases.
Victorino flipped the ball back to Chen, who let it drop, before taking first base, and Dustin Pedroia increased the Red Sox's lead to four with a two-run ground-rule double.
"I don't want to comment on that," Chen said of the incident. "I know he's a really good athlete, but I'm a really good pitcher, too. I didn't want to hit him. I didn't mean to hit him, but you can tell I didn't have my command today. That ball just definitely was an accident."
Chen intentionally walked David Ortiz to end his night, with starter Miguel Gonzalez -- pitching out of the bullpen for the second time in as many games -- allowing another pair of runs charged to Chen on Jonny Gomes' double.
"It seemed like every time Wei-Yin made a mistake, he paid for it," manager Buck Showalter said of the uncharacteristic outing. "He jerked some balls across the plate and left some out over there where he usually doesn't do it. He's working on an extra days' rest and he's carrying a lot of fastball, but just didn't command it very well at the level that we've been spoiled with by him all year."
The Orioles' issues didn't stop when Chen left with Victorino going deep for a second time off lefty Troy Patton, connecting for a three-run shot in the fifth inning that put the Red Sox up nine. Fellow lefty reliever Brian Matusz was also charged with a pair of runs in the seventh.
"Much has been made about how left-handers have shut us down since the All-Star break, but the last three lefties we've run into, we've been able to come away with wins," Red Sox manager John Farrell said. "Chen is a very good pitcher. I think any time you have an ERA in the low threes in this division, he's been effective against us earlier in the year. But we swung the bat very well tonight."
The Orioles loaded the bases on Red Sox starter Felix Doubront to score a pair of runs in the third inning. After singles by J.J. Hardy and Danny Valencia, Steve Pearce was hit by a pitch to load the bases. Brian Roberts' walk plated Hardy and Manny Machado's sacrifice fly gave the Orioles' a short-lived 2-1 lead.
It was all the O's would muster up off Doubront, who went 6 2/3 strong innings, as the offense fell silent and had just four hits all night.
"Losing 2-1 hurts a little more than losing 13-2," Jones said. "So stop crying, come back tomorrow and play the game of baseball."
Brittany Ghiroli is a reporter for MLB.com. Read her blog, Britt's Bird Watch, and follow her on Twitter @britt_ghiroli. This story was not subject to the approval of Major League Baseball or its clubs.