Skipping a step: Double-A sometimes last stop
Skipping a step: Double-A sometimes last stop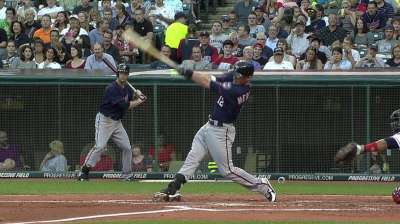 When Twins catcher Chris Herrmann was first called up to the Major Leagues last September, he was admittedly surprised. The University of Miami product had ascended rapidly through the first few levels of the organization before playing 127 games with Double-A New Britain in 2012.
Herrmann was pleased with his season -- he hit .276, drove in 61 runs and felt good about his contribution behind the plate as well -- but when he received the late callup a few weeks after the Rock Cats' season ended, he wasn't quite prepared for it.
"I figured they might have given me a chance, so when I found out they weren't originally going to call me up, I wasn't upset, but I was just telling myself, 'There's always next year to be ready for,'" Herrmann said. "Then whenever they gave me the late callup, I was stoked and excited and surprised -- everything that comes along with that.
"But it was different, for sure."
The most basic principle of the system that baseball is structured upon -- from rookie ball to Triple-A to the Majors -- is the incremental difference in the level of play each stop along the way. No other major sport has the methodical, gradual process that requires players to slog through bus rides across the heartland and play in front of crowds of hundreds before they find themselves under the game's brightest lights. You want to talk about paying your dues? No athlete has to go to such great lengths as a ballplayer.
It's a unique game in that even the best players make all the steps along the way. But there are always exceptions. Herrmann was one of them. So, too, was Nationals reliever Ian Krol, the White Sox's Conor Gillaspie and Nate Jones, the Tigers' Rick Porcello, Atlanta's Alex Wood, and Max Stassi, one of the Astros' most recent callups.
"It was an incredible feeling," Stassi said. "It was unexpected. I was just hanging out on an off-day at Sonic with a couple teammates in Double-A. Next thing I know, my phone is ringing and it's my manager, Keith Bodie, and he's telling me to pack my stuff and I'm heading to Arlington. It was a pretty exciting time."
Baseball fans are being treated to a generational exchange of sorts, with some of the game's best players impacting the Majors at a remarkably young age. Not a day goes by, it seems, without highlights of Bryce Harper or Mike Trout flashing across the television screen. Despite tremendous talent, they each worked their way from Class A to Triple-A before hitting the big leagues.
But promising young Marlins righty Jose Fernandez leapt from Class A Jupiter to Miami this season, and Orioles third baseman Manny Machado skipped from Double-A to the bigs.
Did they miss out on anything?
"Nowadays, Double-A, Triple-A, it doesn't even matter," said Cubs starter Edwin Jackson, who debuted with the Dodgers in September 2003 before reaching Triple-A. "Double-A is the young Triple-A. You see people going just as quick from Double-A as Triple-A."
Jackson was called up in September of that season after appearing in 27 games for Double-A Jacksonville. He went 2-1 with the Dodgers that fall, pitching 22 innings. Then Jackson started 2004 in the Minors, with Triple-A Las Vegas.
"I was just learning how to pitch when I got called up," Jackson said. "I was still really just a thrower when I got called up. It wasn't a real big shock to me to go back down to Triple-A. I knew I still had to go down and learn to pitch."
The learning curve, obviously, is faster for some than others. You must also factor in the big league club's needs, and if a young player can address them immediately all the while growing with the Major League club rather than in the Minors.
It's been an all-hands-on-deck kind of season for the Astros, who have the youngest roster in the Majors (average age 25.7 years old). They're carrying 14 rookies on the active roster, which includes six rookie relievers. The Nats, too, have used rookie relievers like Krol in a pinch this season. He jumped from Double-A Harrisburg to Washington this season.
"I spent my fair share of time in the Minors, but you live and you learn with every mistake, every pitch you throw -- just the way the game goes," Krol said. "The more you've got time in this game, the more you'll figure out how to get batters out and be successful. It's definitely more of a learning curve up here, I would say. The margin for error is a lot smaller. [But] you're here for a reason.
"Obviously [it's better to be in the big leagues], but at the same time, it wouldn't have hurt if I went to Triple-A. It probably would have helped a lot."
But there's more to it than just being able to execute pitches or hit a Major League curveball, Herrmann says. He admits he was overwhelmed when called up last season. Herrmann wasn't familiar with the surroundings or many of the players, and it may have affected his play. He went 1-for-18 in seven games.
Now, Herrmann says, he communicates better with the other players on the Major League club, and feels like he belongs. This, after getting his chance to play Triple-A ball to begin the season.
"You have to really earn your spot up here," Herrmann said. "A lot of different sports -- basketball, football -- you get drafted, and you're in the pros. Here, this is completely different. You have to really earn your spot over and over and over again. You have to fail and learn from your mistakes and improve your game every day.
"That's that hardest part about this game -- going through each stepping stone. And know you're going to fail and just learn how to overcome failure and all the stress and everything else. That's why we have the Major Leagues, because it's the best of the best. It's kind of cool how all this works out."
Joey Nowak is a reporter for MLB.com. Follow him on Twitter at @joeynowak. This story was not subject to the approval of Major League Baseball or its clubs.