Backed by Prado, McCarthy returns to form
Backed by Prado, McCarthy returns to form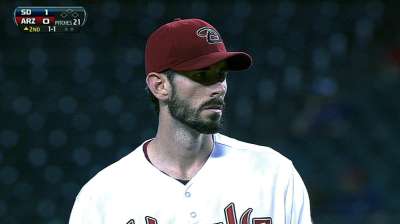 PHOENIX -- After being hammered by the Reds in his start last week, D-backs right-hander Brandon McCarthy studied video to try and figure out the cause of his struggles.
McCarthy thought he found a mechanical issue, and after he and pitching coach Charles Nagy worked on it for a while, something finally clicked.
"I felt like my old self," McCarthy said.
And McCarthy looked like his old self Monday night, as he pitched seven strong innings to lead the D-backs past the Padres, 6-1, at Chase Field.
After a long, grueling road trip, a return home proved to be the perfect elixir for the D-backs.
"I felt like we played on the road for a month," infielder Martin Prado said.
It was actually only 10 games, but it certainly felt like longer with a pair of extra-inning games, lasting 16 and 18 innings.
While very little seemed to go right on the trip, plenty of things worked out for the D-backs on Monday.
First there was McCarthy, who not only held the Padres to just one unearned run, he managed to pitch deep into the game and give a tired bullpen a bit of a rest.
"At least I can leave the game feeling like I carried my weight, and I did what I was supposed to do," said McCarthy, who improved to 3-8. "Starters, we've been kind of wearing out the bullpen a little bit, so it's on us to try and get as deep as we can."
After studying his mechanics, McCarthy and Nagy concluded that the veteran had a mechanical flaw that had started developing as early as last season and slowly got worse and worse.
"It's just keeping my body in line and just keeping my front side closed and keeping my glove close to my body," McCarthy said. "Anytime I do that, the ball kind of comes out effortlessly. I actually throw harder, the ball moves later, I can get away with more mistakes because the movement's there. What we've seen the last few weeks is if the pitch isn't perfect, it's going to get hit."
McCarthy allowed just the unearned run in the first while surrendering a total of five hits, two of which were infield singles.
"He was in the strike zone with the cutter and sinker," Padres manager Bud Black said. "He was throwing strikes. A couple of inches or feet, and it's a different ballgame."
D-backs manager Kirk Gibson has put speedsters Tony Campana and Adam Eaton at the top of his lineup recently, hoping that they would wreak havoc on the basepaths. That was the case Monday, as the pair combined to score three runs.
That set the table for three, four and five hitters Paul Goldschmidt, Eric Chavez and Prado.
"The two guys at the top of the lineup have been doing a good job at being pesky and getting on base," D-backs manager Kirk Gibson said. "They are bringing infielders in, and they are slapping it by them."
The D-backs offense was slow to get going, but finally got to Padres starter Tyson Ross in the fourth. Ross hit Eaton with a pitch to start the inning, and Goldschmidt followed with a drive down the right-field line that hit off the wall for a triple and a 1-1 tie.
Two batters later, Prado lifted a sacrifice fly to right to score Goldschmidt.
Campana beat out a soft grounder to second to start the sixth, and with third baseman Chase Headley pulled in to guard against a bunt, Eaton was able to ground a single to left to put runners at first and second.
The two then executed a double steal, and after Eric Chavez was walked intentionally, Prado once again came through, this time with a two-run single to left to give the D-backs a 4-1 lead.
"I think that Campana and Eaton set everything up for Goldy and Chavy and me," Prado said. "I feel like having those two speedy guys at the top of the lineup just helps everybody else."
On July 28, Ross (3-7) tossed eight shutout innings against the D-backs in a 1-0 Padres win. On Monday, Arizona chased the right-hander from the game in the seventh as it tacked on a pair of unearned runs.
Steve Gilbert is a reporter for MLB.com. Read his blog, Inside the D-backs, and follow him on Twitter @SteveGilbertMLB. This story was not subject to the approval of Major League Baseball or its clubs.