Zito's losing skid continues in short outing
Zito's losing skid continues in short outing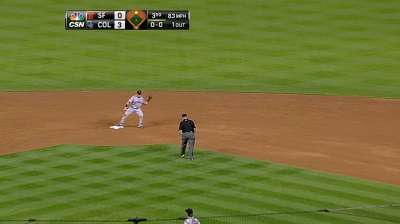 DENVER -- Had Chad Gaudin not gone on the disabled list last week, Barry Zito quite likely would have finished his final disappointing season with the Giants pitching in relief.
But the Giants had to return Zito, whose contract expires after this season, to their rotation, and the results have not been good. He lasted four innings Monday night and plunged the light-hitting Giants into a five-run hole from which there was no escape, even at Coors Field, where they lost, 6-1, to the Rockies.
Among the nine hits Zito allowed were a two-run homer by Todd Helton in the second, his ninth homer this season and 2,497th career hit, and a solo homer to Charlie Blackmon in the third. Zito allowed two runs in the fourth on a bloop single by pitcher Juan Nicasio when center fielder Gregor Blanco charged but didn't dive for the ball and on a fielder's choice when second baseman Marco Scutaro bobbled what could've been an inning-ending double-play ball.
"There was bad luck in there," Giants manager Bruce Bochy said. "He just left some pitches up, too, though. Couple curveballs [to Helton and Blackmon]. He was pretty good on the right-hand hitters. Lefties, he left a couple curveballs up that he paid for."
Zito (4-10) didn't see it that way. He said the curveballs Helton and Blackmon were more a matter of good hitting than poor execution.
"I felt I had pretty good command tonight," Zito said. "A few homers [on] decent pitches. Two base hits to right were on fairly good pitches. But other than that, a lot of bloops. It's been tough for me lately, obviously, but I felt I had good command tonight, felt like I was putting the ball where I wanted to. I got to take the positives."
There haven't been many of those for Zito lately. He has lost seven straight decisions, the third-longest losing streak of his career. He has allowed 14 home runs in his past 13 outings, including three of his first four relief appearances after Ryan Vogelsong came off the disabled list and replaced him in the rotation Aug. 2.
In Zito's past five starts dating back to July 14, he is 0-4 with an 11.21 ERA (22 earned runs, 17 2/3 innings).
While Zito's struggles continued, Juan Nicasio pitched six very good innings for the Rockies. He allowed four hits in six innings and tied his season high with nine strikeouts, one short of his career high set in 2011.
Before the game, Bochy said the biggest disappointment of the season "is the defense didn't show up every day." Sure enough, that was again the case in the fourth when Nicasio singled home a run with the bases loaded and one out as Blanco charged but could not hold Nicasio's short fly.
Had the ball been caught, it likely would have been an inning-ending double play. Instead, the Rockies added yet another run to make it 5-0 when Blackmon hit a hard potential double-play grounder to Scutaro that he dropped, giving Blackmon enough time to beat shortstop Brandon Crawford's throw to first.
Nicasio left the bases loaded in the first when he struck out Pablo Sandoval, and he got Buster Posey to ground into an inning-ending double play with runners on first and third in the third.
Nicasio hit two batters with pitches, including Brandon Belt to open the sixth, and Posey followed with a single. But Nicasio retired Hunter Pence and Sandoval on fly balls to center, Sandoval's sending Blackmon to the wall. Nicasio then struck out Crawford on his 95th and final pitch and 62nd strike.
"He's come a long way, minimizing damage," Rockies manager Walt Weiss said about his starter. "The big one was the sixth inning. We really wanted him to get through the sixth without having to go to the 'pen. Our guys were pretty taxed so we didn't want to go there that early, so that was big for Juan to get through that sixth inning."
Pence, who went 1-for-3 with an infield single and a strikeout against Nicasio, said, "He was sharp today. His fastball, he was locating it well, and it was just deceptive. It felt like it was getting on you really quick."
Zito's next start is scheduled for after the rosters expand Sept. 1. Asked whether he expected to remain in the rotation, Zito said, "I don't know what's going to happen, obviously. I just take command of the pitch when I get it, take advantage of the opportunity when I get it. Keep going out there making pitches. If I do that like I did tonight, I think it'll end on a good note."
And as for next year and where he might be pitching, Zito said, "I don't think about that stuff right now. I take one day at a time and really just try to come out here and give my best effort every opportunity. Tomorrow will take care of itself."
Jack Etkin is a contributor to MLB.com. This story was not subject to the approval of Major League Baseball or its clubs.