A's ride Crisp's bat, glove to win vs. Tigers
A's ride Crisp's bat, glove to win vs. Tigers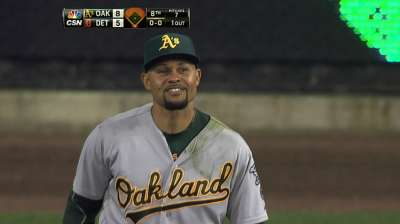 DETROIT -- This wasn't supposed to be a likeable matchup for the slumping A's, who sent homer-prone pitcher A.J. Griffin to the mound to face the homer-happy Tigers at Comerica Park on Monday.
Naturally, the inevitable unfolded, the Tigers taking Griffin deep twice for a total of four runs to put the righty's season total up to a Major League-leading 32 long balls.
Both proved to be equalizers, but nothing more, as the A's got one of their own from a red-hot Coco Crisp, along with a handful of other runs courtesy of some timely hitting in an 8-6 series-opening victory that kept them 2 1/2 games back of the Rangers in the American League West.
Oakland had dropped four of its last five and 14 of 23 before fending off the Tigers, who threatened to take the lead in the seventh when manager Bob Melvin elected to have Dan Otero intentionally walk Miguel Cabrera upon a 2-0 count to load the bases with two outs for Prince Fielder in a three-run game.
Lefty Sean Doolittle, who hadn't pitched since giving up four runs last Tuesday, was awarded the privilege of getting out of the jam, and he did -- but barely, as Fielder drove the ball well to center field, with Crisp on the move to make the inning-ending catch.
"[Fielder] kind of just stood there, and I couldn't tell if he was watching it, thinking it was gone," said Doolittle. "I thought it was just going to be kind of like a routine play, but it turns out Coco made a nice running catch to get there."
It was fitting, since Crisp played a significant role in getting the A's to that point, falling a triple short of the cycle while collecting hits in three of his first four at-bats. His first was a leadoff double that led to a run when Josh Donaldson notched a one-out base hit off AL ERA leader Anibal Sanchez (2.61), who was at 29 pitches by inning's end and 112 through five.
"With the way that he's been pitching lately, I think it was big for us to be selective and lay off his changeup out of the zone," said Daric Barton. "And Coco saw everything off him tonight."
After Omar Infante tied the game with a two-run shot to left off Griffin in the second, Crisp regained the lead on his own with a long home run to right field, his 14th of the season -- 10 have given the A's the lead -- and the 100th of his career.
Oakland's center fielder, who added an RBI single in the sixth, has been unstoppable since receiving a cortisone shot in his ailing left wrist, going 10-for-26 in the two weeks that have followed, including 9-for-18 on this road trip.
"He's a huge catalyst for our team," said Griffin. "He had an outstanding day today. He's out there, playing hard, just a good sparkplug to have. He gets the offense going, he makes awesome plays out there. When he's going good, the A's are usually going good. He's a huge contributor, and I'm really thankful he's on our side. "
On this night, Crisp got plenty of help all around him, with the A's getting hits from all of their starting position players outside of Yoenis Cespedes, who is just 4-for-31 with 11 strikeouts in his last seven games, bringing his average down to .224.
Even Barton contributed two RBIs, on base hits in the fourth and sixth, after being recalled from Triple-A Sacramento on Monday for the first time since May to take the roster spot of the injured Josh Reddick.
"It was a big night for him," said Melvin, "and much needed for us to get that type of contribution."
Barton's second knock off lefty Jose Alvarez unlocked a 4-4 tie created by Cabrera, who drove a two-run shot to right off Griffin in the fifth, and the A's only kept adding on to their lead, with Alberto Callaspo and Jed Lowrie also contributing run-scoring hits.
"No matter how many runs you're up, you're down, we're still going to go out and try to score a run every inning, multiple runs if we can," said Crisp. "It felt nice to be able to go out there and put on a couple extra. We're trying to do that every game, and it just hasn't been happening, so it's definitely nice that we did, hopefully something we can continue."
Griffin lasted five-plus innings for the A's, giving up five other hits besides the homers with one walk and four strikeouts.
Doolittle allowed a leadoff homer to Victor Martinez in the eighth, notching one out before Ryan Cook came in to add some drama and load the bases. Cook eventually struck out Torii Hunter to end the frame, before closer Grant Balfour allowed an unearned run in the ninth but got through it for his 33rd save.
"That was really good energy today," said Melvin. "Early on, Coco gets us started, and a little demoralizing once we lose the lead and Cabrera hits the home run, but we came right back, had great at-bats throughout the entire game. That was good to see."
Jane Lee is a reporter for MLB.com. This story was not subject to the approval of Major League Baseball or its clubs.