Tulo takes second game off with sore side
Tulo takes second game off with sore side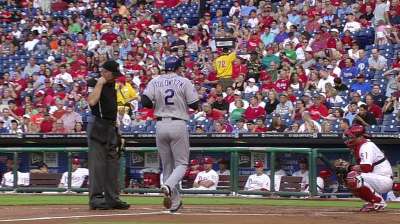 DENVER -- Rockies shortstop Troy Tulowitzki missed his second straight start Monday as he continues to battle soreness in his left side.
Tulowitzki said it was a "precautionary" move and expects to return to the lineup Tuesday for the second of a three-game set against the Giants.
"I was on the fence about putting him in there and talked to our training staff and decided to keep him out one more night," Rockies manager Walt Weiss said before Monday's game. "Feel pretty good about him being out there tomorrow, but I wanted to give him one more day."
Tulowitzki injured his left side on a swing in the sixth inning of Saturday's 3-0 loss to the Marlins. This injury does not appear to be related to the right rib he fractured in mid-June, an injury that sidelined him for nearly a month.
Though he struggled at the plate when he first returned from the injury, hitting .220 in his first 17 games back, Tulowitzki appeared to be rounding into his usual form before Saturday's setback. Tulowitzki had a 10-game hitting streak before he finished 0-for-4 Saturday, and he's hitting .381 with two homers, five doubles and five RBIs over his last 11 games.
Ian McCue is an associate reporter for MLB.com. This story was not subject to the approval of Major League Baseball or its clubs.