Harang DFA'd; top prospect Walker could fill spot
Harang DFA'd; top prospect Walker could fill spot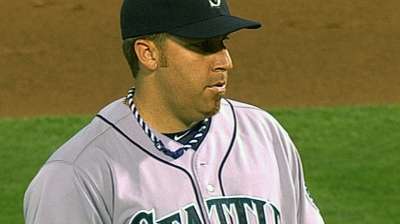 SEATTLE -- Aaron Harang was designated for assignment by the Mariners on Monday, leaving the veteran right-hander looking for a team and Seattle with a rotation spot to fill before Friday's game in Houston.
Harang, 35, went 5-11 with a 5.76 ERA in 22 starts after being acquired in an early-season trade from the Rockies. Harang was an Opening Day starter for six seasons with the Reds and went 10-10 with a 3.61 ERA in 31 starts for the Dodgers last year, but struggled to find consistency with Seattle and gave up nine hits and seven runs in 5 2/3 innings in his last start Sunday in a 7-1 loss to the Angels.
"Obviously it's a tough decision, but this is part of the game," Harang said. "I've been around this long enough and seen it enough times. Unfortunately this is the first time I've been told face-to-face that I've been designated, so it's a little tougher than I expected. But I get it.
"I had some inconsistencies that I've got to work on. I know I can still pitch and be successful at this level, so I'm not worried about that part. It's just figuring out the little things and making those adjustments."
Harang threw two complete-game shutouts for the Mariners, but was 0-2 with a 9.12 ERA in five starts this past month.
Manager Eric Wedge said no decision has been finalized on who will take Harang's spot on Friday against the Astros, saying it could come from a current member of the bullpen or from the Minor Leagues. Taijuan Walker, 21, pitched six innings of one-run ball for Triple-A Tacoma on Sunday and would be in line to start again Friday if the Mariners decide to bring him up.
"You have to weigh what's the upside, what's the downside, what's the risk/reward this year, for him, for us, down into next year and the future," Wedge said. "That's why we're not rushing into anything. We feel like we've got a couple different options that we could slide in there, so we're going to weigh all that out."
Walker has thrown 141 1/3 innings between Double-A Jackson and Triple-A Tacoma this year, with a 9-10 record and 2.93 ERA in 25 starts. The Mariners would like to limit him to about 160 innings this year, so he'd only be able to make about three more starts.
But Wedge indicated that wasn't necessarily a deal breaker.
"We've got multiple guys that we feel like have a pretty good chance to be starting pitchers for us in the future," Wedge said. "Because we have options like that, we feel like we can cover the rest of the season. When I say 'cover,' I mean give not just one guy, but maybe a couple guys opportunities."
Rookie Brandon Maurer started 10 games earlier in the season and is working as a long reliever, so he could potentially pick up some starts. The Mariners will likely also add other pitchers when rosters can be expanded in September, with starters Blake Beavan and Hector Noesi among the potential candidates.
Greg Johns is a reporter for MLB.com. Follow him on Twitter @GregJohnsMLB as well as his Mariners Musings blog. Jacob Thorpe is an associate reporter for MLB.com. This story was not subject to the approval of Major League Baseball or its clubs.