With boost from bats, Blackley earns first Texas win
With boost from bats, Blackley earns first Texas win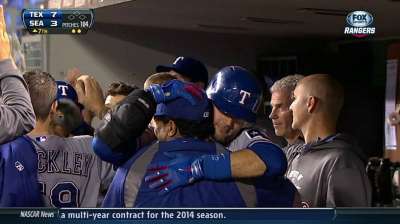 SEATTLE - The Rangers lost 10 straight games at the end of last season when their fifth starter -- either Scott Feldman or Martin Perez -- was on the mound. Manager Ron Washington hasn't forgotten that overlooked factor in the Rangers late September collapse.
That's why Washington is thrilled with what he is getting from Travis Blackley since his arrival from Houston. Blackley isn't Clayton Kershaw, but the Rangers are 2-0 when he is on the mound. That's two more wins than what the Rangers got from their fifth starter at this point last season.
Blackley, who was acquired from the Astros on Aug. 14 for cash, earned his first win with the Rangers by holding the Mariners to three runs in six innings in an 8-3 victory on Monday night at Safeco Field. The win snapped the Rangers' two-game losing streak as they improved to 17-6 in August. They also remain 2 1/2 games ahead of the Athletics in the American League West.
"Blackley did a great job out there giving up six strong innings," Washington said. "He has an idea of what he is doing out there. He's able to change speeds, use his changeup and curveball and move his fastball around."
The Rangers acquired Blackley because injuries have depleted their starting pitching depth and they were running out of options. Alexi Ogando is still on the disabled list with shoulder inflammation and hasn't resumed throwing off a mound. Nick Tepesch begins his medical rehabilitation assignment Tuesday, but will likely need three or four starts before he is an option. Michael Kirkman, who is on rehab assignment, could step into the rotation if needed, but has never started at the Major League level.
Right now Blackley is holding down the fifth starter spot and the Rangers will take every win they can from him. He pitches again Sunday against the Twins.
"It's real important," Washington said. "It's important up and down the rotation, not just the fifth spot. But we did have issues last year. Hopefully we won't have those issues down the stretch this time."
Blackley is not new to this. He made 15 starts for the Athletics last season, including Oct. 2 against the Rangers. That was the 161st game of the season and Blackley put the Athletics into a tie for first place with a 3-1 victory over the Rangers.
"I like to think I was able to help out with the A's last year, so to come here and be a part of the chase and a chance for postseason. … I'm excited, it's a great opportunity," Blackley said. "It's not hard with this team, they score a lot of runs, they have some All-Stars and some Gold Glovers. If you make them hit it and keep it on the ground, you're going to be good."
Blackley was good against the team that originally signed him 13 years ago out of Australia, allowing five hits, one walk and four strikeouts. This was only the seventh time in 25 career starts that Blackley was able to pitch at least six innings.
"With all the things that have happened and with all the injuries, anybody who can come in here and give us six quality innings like that, it's a bonus," catcher A.J. Pierzynski said. "We have had a bunch of guys step in for us."
Pierzynski had the big hit of the game with a three-run home run off of Mariners starter Joe Saunders in the seventh. The Rangers were leading, 4-3, when Ian Kinsler doubled with two outs. Mariners manager Eric Wedge decided to walk Adrian Beltre intentionally to set up a lefty vs. lefty matchup against Pierzynski. It was the second time in the game Beltre was walked intentionally so that Saunders could face Pierzynski.
"It's the right thing to do right there," Wedge said. "Joe's done a real good job of handling A.J. in the times that they have faced each other. ... [He] handled him fine tonight until that point in time, too. You got a chance to pitch around Beltre you do it. I mean he's about the hottest hitter, one of the hottest hitters especially over the past couple months. It just didn't work out for us."
Pierzynski was hitless in his previous three at-bats, leaving him 5-for-25 in his career against Saunders with just one double as the only extra-base hit. But this time Pierzynski crushed a first-pitch slider into the right-field seats for a 7-3 lead.
"I would do the same thing if I was Eric Wedge," Pierzynski said. "The way Adrian is swinging the bat, it makes all the sense in the world, especially with a guy like Saunders. It makes perfect sense."
Elvis Andrus celebrated his 25th birthday with three hits, Alex Rios was 2-for-4 with a two-run single off Saunders in the first and Mitch Moreland drilled a solo homer in the eighth. Saunders is 4-10 with a 6.39 ERA in 16 career starts against the Rangers. That's the fifth highest ERA by an opponent with at least 10 starts against Texas.
T.R. Sullivan is a reporter for MLB.com. Read his blog, Postcards from Elysian Fields, and follow him on Twitter @Sullivan_Ranger. This story was not subject to the approval of Major League Baseball or its clubs.