Rehab starts likely before CarGo returns to Rockies
Rehab starts likely before CarGo returns to Rockies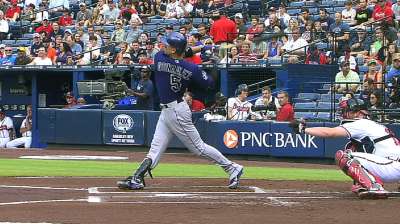 DENVER -- Two days after he swung a bat for the first time since he was placed on the disabled list, Rockies left fielder Carlos Gonzalez took swings in the indoor batting cage before Monday's game against the Giants.
Gonzalez has battled a lingering sprained middle finger on his right hand since July 7 before he landed on the DL Aug. 7, and he has not played since Aug. 4. Rockies manager Walt Weiss said Gonzalez will likely have to make a few Minor League rehab starts before he's back in the lineup.
"He's missed some time here, so he'll probably have to go out and get a few at-bats," Weiss said. "But it sounds like he's doing better."
Despite missing nearly three weeks, Gonzalez still leads Colorado in homers (26) and RBIs (70), and his .591 slugging percentage is still the highest in the National League. His 26 homers were also tied for the league lead before he went down.
Weiss once again noted that his All-Star outfielder will probably be playing through pain for the remainder of the season.
"I don't think that finger's going to be perfect any time this year," Weiss said. "But hopefully we'll get him back, he'll be able to play, before it's all said and done."
Ian McCue is an associate reporter for MLB.com. This story was not subject to the approval of Major League Baseball or its clubs.