Mattingly: Dodgers can learn from Red Sox series
Mattingly: Dodgers can learn from Red Sox series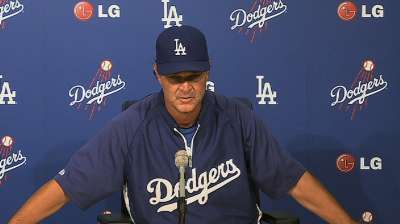 LOS ANGELES -- The Dodgers have World Series aspirations, but manager Don Mattingly reminded his club it still has work to do after losing two of three games to the Red Sox over the weekend.
"We pretty much got outplayed," Mattingly said on Monday. "If we're going to get where we want to go, those are the kinds of teams we're going to have to beat. It gives you a little barometer of what kind of baseball you need to play to win."
The Dodgers beat the first-place Red Sox on Friday, 2-0, behind a two-run homer from Hanley Ramirez and eight scoreless innings from Ricky Nolasco. But Los Angeles was outscored, 12-3, in the final two games to lose a series for the first time since June 14-16 in Pittsburgh.
"If it wasn't for Ricky, we would have got swept," Mattingly said.
The five runs the Dodgers scored in the series were the club's fewest in a three-game set this season. Boston starters John Lackey, Jon Lester and Jake Peavy allowed three runs total in 24 1/3 innings.
"Those are the kind of people we're going to have to beat to get where we want to go," Mattingly said. "The only concern was that you see three veteran pitchers that basically got ahead of the count, and every day I look up in the sixth inning and their pitch count is in the 60s. So we're talking about 10 or 12 pitches an inning -- way too easy. They're veterans and they're going to get ahead in the count and expose you if you don't understand what they're trying to do."
Mattingly also pointed out the Red Sox played with more fire than his club. Boston is in a tight race in the American League East, while L.A led the National League West by 9 1/2 games entering Monday.
"Human nature tells us you've got a little bit of a cushion there and you get away from that mentality a little bit," Mattingly said. "I think you see a team over there that was a little more intense and had more fight in their at-bats. We saw them foul off more tough pitches and take advantage of everything that we did wrong."
Austin Laymance is an associate reporter for MLB.com. This story was not subject to the approval of Major League Baseball or its clubs.