Decision backfires as Mariners fall to Rangers
Decision backfires as Mariners fall to Rangers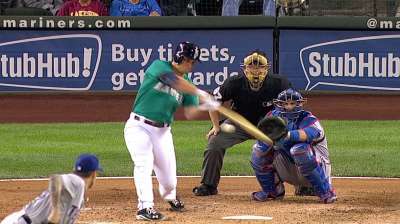 SEATTLE -- Sometimes the right moves can lead to the wrong results, which Rangers catcher A.J. Pierzynski proved with a three-run homer Monday night that catapulted Texas to an 8-3 victory over Mariners southpaw Joe Saunders.
Saunders intentionally walked Adrian Beltre to get to Pierzynski with two out in the seventh inning, trailing 4-3, but the veteran backstop made him pay with the big blow of the night at Safeco Field as Seattle lost its fourth straight.
"It was a good pitch to A.J., but he's kind of a guess hitter and he guessed right and put a good swing on a good pitch," Saunders said after Pierzynski jumped on a first-pitch slider. "It was one of those weird nights where I thought I pitched better than the results. I've just been having some bad luck.
"You just have to keep your head up, keep pushing forward, keep working hard and just trust that things are going to turn around."
Pierzynski certainly wasn't questioning the Mariners strategy of intentionally walking Beltre, who is hitting .327 with a team-leading 27 homers and 79 RBIs. Pierzynski was 0-for-3 against Saunders at the time and 5-for-25 (.200) for his career.
"I would do the same thing if I was [Mariners manager] Eric Wedge," Pierzynski said. "The way Adrian is swinging the bat, it makes all the sense in the world, especially with a guy like Saunders. He made a mistake against me finally. He just hung a slider. It seems like every time I go up there, he bears down on me. He's just tough on me and he's a good pitcher."
Seattle has lost four straight since Wedge returned Friday from a month-long absence following a minor stroke, though they did cross the plate more times Monday than in their three-game weekend sweep at the hands of the Angels when they were outscored, 14-2.
Kyle Seager continued tormenting Rangers pitching with a solo home run in the fourth inning in a 1-for-4 night. The 25-year-old third baseman is batting .400 (28-for-70) with 11 doubles, five home runs and 14 RBIs in 17 games against Texas this season. His 16 extra-base hits are the most by a Mariners player against the Rangers in a single season.
Seager's shot off Travis Blackley was his 20th of the season and briefly cut the Rangers' lead to 4-3. Seager became the first Mariner with back-to-back 20-homer seasons since Raul Ibanez and Beltre in 2008.
"He threw a fastball that kind of caught some plate," said Seager. "That's what I was looking for and I put a good swing on it."
But Pierzynski put any notion of a Mariners comeback to rest with his seventh-inning shot in Saunders' final frame of a 107-pitch night.
Saunders fell to 10-13 with a 5.09 ERA as he allowed seven runs on nine hits with three walks and no strikeouts over seven innings. The 32-year-old lefty is 1-5 with a 7.71 ERA over his last seven starts.
Saunders had some rough luck in a two-run fourth when a leadoff double popped out of the glove of diving right fielder Franklin Gutierrez and the next ball -- a grounder to second -- instead hit umpire Dale Scott for an infield single.
A potential double-play ball by Jurickson Profar wound up instead being a run-scoring fielder's choice when second baseman Nick Franklin bobbled it before scooping to Brad Miller for the force. That pushed Texas back into the lead and left the door open for further damage, with Elvis Andrus delivering a two-out single to make it 4-2 before Saunders got out of the inning.
"Debacle. Absolute debacle," Saunders said of the odd inning. "It's just something I'm going through right now. Like I said, you just have to keep your head up, your chin up and keep pushing on."
On the heels of a rough outing by Aaron Harang in a 7-1 loss to the Angels on Sunday, the Mariners have given up 13 of their last 14 runs with two outs.
"It's the same situation in that inning," Wedge said of the seventh. "You've got two outs, nobody on, the double, you walk him, then, boom, three-run shot. Veteran guys have got to finish it off. Anybody has to finish it off. And Joe knows that, he just made a mistake with a pitch in.
"He had some tough luck early on there, the ball hit the umpire, they dumped one in on him. I felt like he threw the ball well tonight, but it was just a big blow obviously, right there [by Pierzynski]."
Miller had two of Seattle's five hits and Dustin Ackley continued his second-half surge with a single and a run scored. The team's new center fielder has hit .330 (31-for-94) in 27 games since the All-Star break, raising his season average to .245.
"Everybody is out there trying to string some things together," said Miller, the rookie shortstop. "It's one swing away. All it takes is one little thing to click and everybody starts rolling. We're just trying to get that momentum going again."
Gutierrez went 0-for-4 in his first start since June 23 as he came off the disabled list following a long battle with hamstring issues.
The Rangers improved to 76-55 overall and 10-7 against the Mariners, who are 59-71 and looking for their first win four games into a six-day homestand.
Greg Johns is a reporter for MLB.com. Follow him on Twitter @GregJohnsMLB as well as his Mariners Musings blog. This story was not subject to the approval of Major League Baseball or its clubs.