Batting in second spot not first choice for Rizzo
Batting in second spot not first choice for Rizzo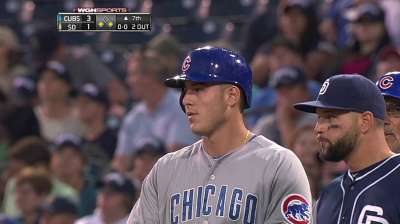 LOS ANGELES -- Anthony Rizzo was back where he feels he belongs in the lineup, batting third for the Cubs, and hopes he is never inserted into the No. 2 spot again.
Rizzo batted second for five games for the Cubs, and was 7-for-24, hitting two home runs in his first game there last Wednesday against the Nationals. Did it make a difference?
"No, it didn't," Rizzo said Monday. "It really didn't, in my opinion. I was very uncomfortable there in the two-hole but it was what it was and, hopefully, I never go back."
What made it uncomfortable?
"It's more an ego thing," he said. "I've never hit second in my life. If you're the second hitter, you're someone who gets guys over and bunts and slaps and what not. I think our lineup doesn't call for me hitting second. You see the Cardinals and [Carlos] Beltran hitting second, but that's because he has nowhere else to hit. I was there and I tried to make the best of it. Dale [Sveum] says it best, it's just a spot in the lineup. I just didn't like it much."
When Sveum, the Cubs manager, made the switch, he said the change was not going to be long term.
"Who knows if any of that stuff works," Sveum said. "Sometimes it does, sometimes it doesn't."
Rizzo was batting .177 with runners in scoring position, and part of the reason the move was made was to give him more at-bats without having to try to think about driving men in.
In December 2010, the Red Sox dealt Rizzo to the Padres as part of the Adrian Gonzalez deal. Rizzo was asked if he ever talked to Gonzalez about dealing with the ups and downs of the game.
"You can't expect everyone to be Superman every day," Rizzo said. "[Gonzalez] had a good year last year, just not an Adrian Gonzalez year. ... You look at everyone's career and they've had monster years and a down year."
Does Rizzo feel he has to be Superman?
"I expect myself to be," he said. "When the time is there, I'll be where I need to be."
Just as long as he doesn't have bat second again.
"I hope it's the last time I'm ever in the two-hole, unless we have a power, monster lineup," Rizzo said. "I made the best of it there. I thought I'd have the bunt sign a couple more times and I didn't."
Carrie Muskat is a reporter for MLB.com. She writes a blog, Muskat Ramblings, and you can follow her on Twitter @CarrieMuskat. This story was not subject to the approval of Major League Baseball or its clubs.