A's expect Colon to be ready to start on Thursday
A's expect Colon to be ready to start on Thursday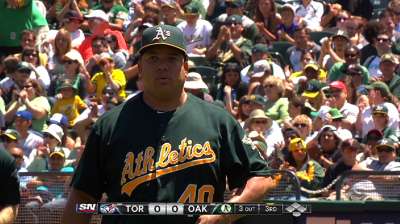 DETROIT -- Though their Thursday starter in Detroit has yet to officially be announced, the A's are feeling confident they can soon declare it to be Bartolo Colon.
That's the same day Colon is eligible to return from the disabled list, where the 40-year-old landed with a left groin strain that was of no issue during his 38-pitch bullpen session on Monday.
"Looked good, didn't feel his groin," said manager Bob Melvin. "Tomorrow will be a little bit more tell-tale, after going after it hard off the mound for the first time. I would say today is encouraging, and hopefully he's able to take a start on Thursday."
Should Colon need more time to rest beyond Thursday, the A's are likely to pitch Jarrod Parker, though they were hoping to give him an extra day. Melvin also didn't rule out using righty reliever Jesse Chavez.
"I think there are any number of options, depending on how we get there," he said. "Jesse's versatility, and the amount of pitches he's been able to give us, that's certainly an option, too. We'd like to see Bart make that Thursday start, though."
At the time he was placed on the DL, Colon had given up a combined 10 earned runs in his past two starts, spanning just 6 2/3 innings, after surrendering nine earned runs in his previous 49 1/3 innings over seven outings. His velocity was lacking and his pitches weren't nearly as crisp -- factors that didn't come into play Monday.
"As far as I could tell, it was really good the second half," Melvin said. "He was kind of easing his way in, but then really got after it and knew he had to test the groin. I think it kind of is surprising him a little bit that he didn't feel anything. His last 10 or 15 pitches, they had good movement, the ball was coming out of his hand nicely. That was good to see."
Jane Lee is a reporter for MLB.com. This story was not subject to the approval of Major League Baseball or its clubs.