Cubs' bats light up too late against Greinke
Cubs' bats light up too late against Greinke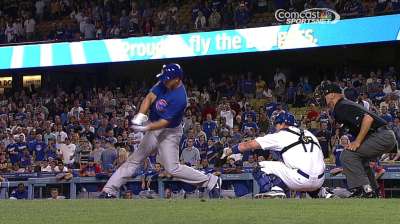 LOS ANGELES -- The Dodgers tweaked their rotation earlier this month to save Zack Greinke for a series against the Cardinals rather than have him face the Cubs.
The Cubs couldn't skip the right-hander on Monday. Greinke hit an RBI single in the fourth and came within one out of a shutout, holding the Cubs to five hits over 8 2/3 innings, in the Dodgers' 6-2 victory. Hanley Ramirez and Yasiel Puig each hit solo home runs as Los Angeles posted its 47th win in the last 59 games.
How good is Greinke? He struck out nine and improved to 5-0 in five starts this month. He's given up five earned runs over 36 2/3 innings in five starts in August.
"He was throwing a bullpen session there for a little while, hitting all of his spots whenever he wanted to," Cubs first baseman Anthony Rizzo said. "That's Zack Greinke, that's who he is and what he gets paid to do. You've just got to battle. I'm proud of us for battling in the ninth. It's a small victory in itself to get a couple runners on and get them in. He had a great night and that's a good club over there."
The Cubs have lost eight straight to the Dodgers, who swept a four-game series at Wrigley Field Aug. 1-4, which included two shutouts. Rizzo sparked the ninth-inning rally when he doubled with two outs. Greinke then hit Nate Schierholtz with a pitch, and Brian Bogusevic drove both in with a double to chase the Dodgers starter.
"He's been on a pretty good stretch and he continued today," Cubs manager Dale Sveum said of Greinke. "He can pitch to a game report, he's got all the pitches to do it. He can pitch to weaknesses, and that's what he did tonight, and he did a nice job."
Dodgers manager Don Mattingly visited with Greinke before Schierholtz's at-bat. Why did Greinke want to finish?
"I just feel a lot of times I've been able to go one more inning," Greinke said. "That's just kind of what you want to do as a pitcher is throw as much as possible. ... If you don't do, you won't know what it feels like. You've got to kind of do it or else you forget how to a little bit."
If it's any consolation to the Cubs, Greinke was ticked that they disrupted his bid for a shutout and he couldn't finish.
"It was frustrating," Greinke said. "I made some good pitches. Rizzo had a nice hit on a pitch I thought was pretty well located. The pitch to Schierholtz was actually close to where you want to throw it, but it hit him. I threw some really good pitches the next at-bat and just battled and on 3-2 [Bogusevic] made a good swing and I couldn't finish it out."
Jake Arrieta couldn't finish either and took the loss in his fourth start for the Cubs. The right-hander had faced the Dodgers on April 21 in Baltimore while with the Orioles, giving up five runs on two hits and five walks over four innings. That was a different Dodgers lineup, without Puig, who joined the team in June, or Ramirez, who was injured.
"They've added quite a few pieces," Arrieta said. "They're one of the best teams in baseball and tough to beat. On nights like this, we've just got to be sharp."
Puig wasn't the problem Monday for Arrieta; walks were. With one out in the Dodgers' fourth, A.J. Ellis walked on four pitches, and one out later, Nick Punto walked on five to set up Greinke's RBI single.
"He's a pretty good hitter," Sveum said of Greinke, who was with the Brewers when the Cubs manager was on the coaching staff there in 2011. "I've been around him and he takes a lot of pride in his hitting, as much as his pitching, probably. He worries about his mechanics hitting and what a pitcher is going to throw. That's why he hits .340 as a pitcher."
Carl Crawford followed Greinke's single with a ground-rule double that bounced over the left-field fence to open a 2-0 lead.
"Key walks at the wrong time," Sveum said of Arrieta's problems. "The walk to Punto was probably the biggest of all."
"It was weird tonight because I was throwing a lot of strikes," Arrieta said, "and then four out of five to one guy [were balls], and I was missing all over the place. I have to be better and stay focused and have better concentration there. There's no reason for that."
Arrieta walked Mark Ellis to open the sixth and he scored on Punto's double. Arrieta was pulled, and Punto moved up on Greinke's sacrifice against Carlos Villanueva and scored on Crawford's sacrifice fly.
"I flat out got out-pitched tonight by one of the best in the game," Arrieta said.
Ramirez connected on his 14th homer with one out in the seventh against Villanueva, and Puig added his 13th with two outs in the eighth off Michael Bowden.
The Cubs' lineup was back to normal as Rizzo was batting third after five games in the No. 2 spot. It didn't matter. Greinke gave up a leadoff single to Starlin Castro, but he was thrown out trying to steal second. The Dodgers pitcher retired the next 13 batters before Donnie Murphy singled with two outs in the fifth. Junior Lake reached on a bunt single in the seventh but was snuffed out when Rizzo grounded into a double play.
With the win, the National League West-leading Dodgers are 20-5 in August; the Cubs, on the other hand, are 6-18 this month.
If the Cubs thought Greinke was tough, it won't get any easier Tuesday. That's when 13-game winner Clayton Kershaw starts.
Carrie Muskat is a reporter for MLB.com. She writes a blog, Muskat Ramblings, and you can follow her on Twitter @CarrieMuskat. This story was not subject to the approval of Major League Baseball or its clubs.