A's will likely use Anderson in the bullpen
A's will likely use Anderson in the bullpen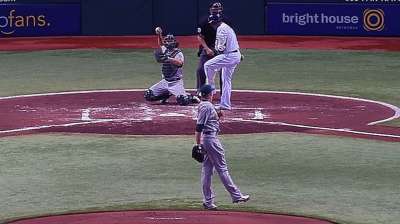 DETROIT -- A's lefty Brett Anderson is expected to be activated within the next three days in Detroit, but he won't be returning to the same role that's defined his career to this point when that happens.
Manager Bob Melvin said Monday that Anderson is likely to be used out of the bullpen when lifted off the disabled list, going so far as to say he's not even an option for Thursday's start should Bartolo Colon not be able to go, which was before considered a possibility.
"I think we're going to have a tough time starting Brett at this point, based on him being out four months, making just two rehab starts, throwing only 3 1/3 his last time out," Melvin said. "Whether we're able to get him in a role where we can stretch him out some, we can potentially do that, but we also feel he has the potential to be a nice option out of the bullpen for us, in whatever role that might be."
Anderson has started 73 games in his career, pitching in relief just once. But there's thought that he isn't quite ready to start again -- he allowed seven earned runs in a combined 5 2/3 rehab innings -- and that he might prove more effective out of the bullpen after missing four months because of a stress fracture in his right foot.
"He is a starter by trade, so I would like to stretch him out and have that option to start him," Melvin said. "But the fact is he comes in a game and can do well for an inning, an inning-plus, you start to look at that and say, 'Wow, he could be a factor there as well.'
"It's kind of undecided where we go with him and whether I get the opportunity to stretch him out, but if I do, I would like to stretch him out some."
Anderson is up for anything, simply wanting to get back to the mound on a consistent basis. He last threw in a bullpen session on Saturday, making some mechanical adjustments that make him feel big league-ready again.
"We'll see what the need is, whether it's starting or relieving," Anderson said. "I feel good, my body feels good, and whatever role they need me in, I can feel comfortable going out there doing that."
Jane Lee is a reporter for MLB.com. This story was not subject to the approval of Major League Baseball or its clubs.