Tigers have five with 10 wins for first time since '84
Tigers have five with 10 wins for first time since '84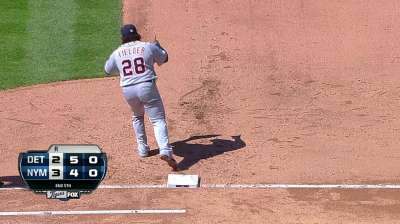 DETROIT -- The Tigers hadn't had a team with five pitchers all reaching double digits in wins since 1984. With Rick Porcello's victory Sunday in New York, the 2013 Tigers accomplished it with 32 games to spare.
Porcello (10-7) joined the rest of Detroit's rotation with at least 10 victories. Max Scherzer got there a long time ago on his way to a 19-1 start. Justin Verlander enters his start Tuesday with 12 victories. Anibal Sanchez entered Monday's start with 11 wins, tied with Doug Fister.
The 1984 squad had four starters -- Jack Morris, Dan Petry, Milt Wilcox and Juan Berenguer -- with double-digit wins, along with reliever Aurelio Lopez. The 1980 team also had four starters with at least 10 wins, along with Lopez.
The 1962 Tigers had five pitchers with at least 20 starts and 10 wins, but two of Paul Foytack's 10 wins came in relief.
Not since 1949 had five Tigers starters all reached double-digit wins in starts. Hall of Famer Hal Newhouser headed that rotation, followed by Virgil Trucks, Art Houtteman, Ted Gray and Fred Hutchinson.
The Tigers are the first Major League team this year with five pitchers in double digits for wins. The Rays, Giants and Nationals all did it last year.
Jason Beck is a reporter for MLB.com. Read Beck's Blog and follow him on Twitter @beckjason. Bobby Nightengale is an associate reporter for MLB.com. This story was not subject to the approval of Major League Baseball or its clubs.