Quality outing from R.A. carries Blue Jays over Yanks
Quality outing from R.A. carries Blue Jays over Yanks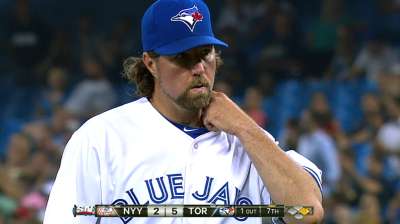 TORONTO -- R.A. Dickey has spent most of the season trying to figure out what it takes to succeed at Rogers Centre, and although there have been plenty of low moments, he might finally be turning a corner.
The knuckleballer has struggled more at home than anyone in baseball outside of Angels right-hander Joe Blanton. The home runs allowed are numerous and the ERA has been a disappointment, but there are signs that adjustments have been made.
The trend continued on Monday night. Dickey enjoyed his second consecutive quality start in Toronto, Edwin Encarnacion had a pair of RBIs and rookie Ryan Goins added two hits in a 5-2 victory over the Yankees.

"He gave us just what we needed," manager John Gibbons said. "He was brought here to win games, and that's all that matters. He's on a nice little roll. He's pitching pretty good, so he's got to feel good."
Dickey entered Monday's outing with a 5.79 ERA at Rogers Centre, which trailed only Blanton's 5.99 for the worst mark at home among qualified pitchers. Most of the issues have been related to Dickey's tendency to give up the long ball, as he has allowed 20 at home compared with just nine on the road.
The 38-year-old has been making adjustments all season but has been most vocal in recent weeks about how things needed to change. He has been somewhat vague about the details, but it's clear that one of his goals is to limit the homers, which is no easy task considering Rogers Centre ranks first in the Majors with 2.89 allowed per game.
One particular area of adjustment is limiting the amount of times he uses a hard-rising knuckleball that hits 80 mph or slightly above on the radar gun. It was particularly effective for him during his National League Cy Young campaign in New York last season, but he's run into trouble with it in Toronto.
"I have to pick and choose my times to do that now," said Dickey, who lowered his overall ERA to 4.39. "That's one of the reasons why I got in trouble there for a little while. Those elevated knuckleballs, if they don't knuckle, they're going to go, and that's what was happening quite a bit.
"I have to do it in the right place in this park. I threw some good ones when I wanted to throw some good ones tonight and didn't get some swings. If I'm able to go up and down when I want to go to down, and that middle one is far and few between, then it's going to be a decent night out."
Dickey did surrender the 650th home run of Alex Rodriguez's career in the fifth inning, but it was a solo shot, and outside of that one blemish, he was able to limit the damage. He allowed just two runs -- one earned -- on six hits while striking out six over 6 1/3 strong innings of work.
The 11-year veteran has now allowed just four earned runs over his past 13 1/3 innings at Rogers Centre. It's an incredibly small sample but still a step in the right direction for a pitcher who is looking for building blocks in an attempt to finish strong and carry that strength into 2014.
"I'm always trying to grow," he said. "Alex hit a pretty good pitch -- it was a knuckleball down. He likes the ball down and out over the plate, and that one just happened to go there. He did a good job of hitting it out. He has opposite-field power, he always has, but if I can contain those to solo shots, it will give me a much better chance to win the ballgame."
The Blue Jays opened the scoring in the second inning, when rookie Kevin Pillar hit a bloop single to center. Another run scored in the third on a single by Encarnacion, but the floodgates really opened in the fifth on an uncharacteristic error by right fielder Ichiro Suzuki.
With runners on the corners, Encarnacion lifted a high fly ball to the warning track in right. Suzuki made an awkward leap and was unable to make the play as the ball bounced off his glove. Jose Reyes easily scored, Goins advanced to third and Encarnacion went all the way to second. Goins would later cross the plate on a double by Adam Lind to give Toronto a three-run lead it would not relinquish.
Yankees right-hander Phil Hughes allowed all five runs -- three earned -- on seven hits and three walks while striking out three. His outing would have looked a lot different if not for the dropped ball by Suzuki, but as a result he lasted just 4 2/3 innings.
"If I could have just gone straight home from right field, I would have," Suzuki said. "I was that embarrassed."
Toronto has now won two in a row after tying a season high with a seven-game losing streak from July 18-24. The Blue Jays will be able to secure their first series victory against New York this season with a win either Tuesday or Wednesday night.
Gregor Chisholm is a reporter for MLB.com. Read his blog, North of the Border, and follow him on Twitter @gregorMLB. This story was not subject to the approval of Major League Baseball or its clubs.