Hughes struggles, Yanks fall in Jeter's return
Hughes struggles, Yanks fall in Jeter's return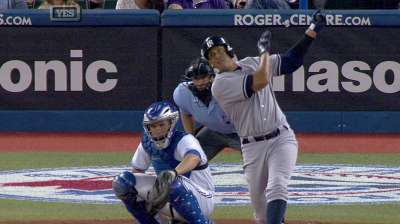 TORONTO -- A ball popped out of Ichiro Suzuki's glove at a key moment, but as the Yankees venture deeper into a stretch in which every game is a must-win, it may be Phil Hughes who is losing his grip on a rotation spot.
Frustrated by a three-run fifth inning in which Ichiro misplayed a fly ball to right field, Hughes posted another unimpressive outing and the Blue Jays defeated the Yankees, 5-2, on Monday at Rogers Centre.
"You've got to find a way to battle around it," Hughes said. "Unfortunately, I didn't do a good enough job to get out of that inning right there. It was tough. It's part of the game, and I couldn't really make a pitch after that."
Edwin Encarnacion drove in two runs in helping the Blue Jays snap a streak of 10 straight losses to the Yankees. New York posted a lineup that featured team captain Derek Jeter for just the sixth time this season but still lost for the third time in four games.
Ichiro's error on Encarnacion's fly ball was a rarity that changed the complexion of the fifth, but the ball was well hit and would have been a sacrifice fly anyway. Ichiro said that he felt the need to leap for the ball, which smacked the heel of his glove and bounced away.
"If I could have just gone straight home from right field, I would have," Ichiro said through an interpreter. "I was that embarrassed."
Hughes was unable to clamp the damage after the miscue. With Adam Lind ripping a run-scoring double down the right-field line and Moises Sierra lifting a sacrifice fly, the Jays pulled ahead, eagerly playing spoiler to the Yankees' playoff hopes.
"If you look at it, [Hughes] probably should have given up three runs in five innings," manager Joe Girardi said. "Your team has a better chance to recover. We don't make a play behind him, something you're not going to see very often. Ich misses a ball, and it led to two extra runs for them."
Alex Rodriguez's 650th career home run headlined the Yankees' output against R.A. Dickey, who allowed two runs (one earned) and six hits over 6 1/3 innings in beating New York for the first time in three tries this season.
Rodriguez's blast came in the fifth inning, smacking a back wall behind the right-field bullpen to tie the score at the time. The homer moves him within 10 of Hall of Famer Willie Mays (660), who ranks fourth on baseball's all-time list.
"Alex hit a pretty good pitch; it was a knuckleball down," Dickey said. "He likes the ball down and out over the plate, and that one just happened to go there. He did a good job of hitting it out. He has opposite-field power, he always has."
Brett Gardner singled and scored on Robinson Cano's groundout in the first inning, and later celebrated his 500th career hit with a fifth-inning single off Dickey.
Beyond that the Yankees went 0-for-7 with runners in scoring position.
"That's the difference," Girardi said. "We didn't get the hits with runners in scoring position, and they did."
Hughes said that he left too many flat sliders over the middle of the plate, calling this another "hiccup" in what he calls a "horrible season." Though he has showed signs of turning it around lately, the Yankees' patience may be close to exhausted.
Hughes has lost 11 of 13 decisions since May 15, and after allowing five runs (three earned) in 4 2/3 innings in this one, Girardi would only offer a tepid endorsement of his job security.
"Right now he's in our rotation," Girardi said. "We haven't talked about taking him out of our rotation."
With just 31 games remaining in the regular season, long reliever David Huff may have vaulted into contention for the starting rotation if the Yankees decide a change is necessary. Huff whipped 3 1/3 scoreless, hitless innings after Hughes' departure, walking one and striking out five.
"[Girardi] told me when I first got here that they're going to use me for possibly anything," Huff said. "Whether it's a hitter, an inning, a few innings or starting, he was going to let me know, and I'll make sure that I'm ready for it."
Jeter went hitless with a walk in three at-bats in his return from a Grade 1 right calf strain. He said that there are no issues with his health, and expects to be in the lineup again on Tuesday.
"I always feel like I can play," Jeter said. "I'll talk to [Girardi]. My job here is to play, so I want to be in there."
Hughes must also proceed as though his next start will come with the rollover of the rotation. But there is a sense that there may be conversations to the contrary behind closed doors in the very near future.
"Every time you have one of these outings, I try and look at the positive," Hughes said. "I still have the opportunity to pitch in big games where it really matters, and that's all I can do."
Bryan Hoch is a reporter for MLB.com. Follow him on Twitter @bryanhoch and read his MLBlog, Bombers Beat. This story was not subject to the approval of Major League Baseball or its clubs.