Dodgers stifled by Peavy, drop first series since June
Dodgers stifled by Peavy, drop first series since June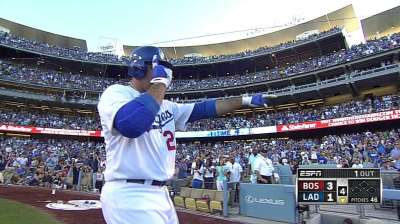 LOS ANGELES -- If this Interleague meeting was a preview of the World Series, the Dodgers need to step up their game by October.
Boston took the rubber match of the three-game series behind a three-hitter from longtime Dodger-killer Jake Peavy, 8-1, on Sunday night. It was the Dodgers' first series loss since June 14-16 at Pittsburgh after winning or tying 18 straight, a franchise record.
The Dodgers have lost four of their last eight games after losing four of the previous 29 games. Sunday's margin of defeat was the largest for the Dodgers since a 16-1 loss to the Phillies on June 28.
"This is a good little lesson for us. We can't just show up," manager Don Mattingly said, warning and challenging his club. "If we're fortunate enough to get anywhere, this is what we're going to see. For three games, all of their starters just got ahead in the count and pitched to their game plan.
"Every guy went deep into the game, had low pitch counts, got ahead in the count. When you see a veteran staff pitch to the game plan, you can't walk up there slinging. If you don't understand what they're doing, they'll wear you out. They're not young kids from Miami with power arms that let you back in the count. They'll abuse you if you don't understand what they're doing."
Peavy is now 14-2 lifetime against the Dodgers and 7-1 at Dodger Stadium. Most of those wins came while he was with San Diego, where he played with Adrian Gonzalez, whose homer on an 0-2 pitch accounted for the only Dodgers run.
"He's a great competitor," Gonzalez said of Peavy. "He's a great teammate. He's a guy that's going to go out there and compete and he did a great job today. He battled a few injuries the last few years, but he's back."
Facing the Dodgers for the first time since 2009, Peavy (10-5) allowed only three hits.
"That's just how pitching in the playoffs go," said Skip Schumaker, who has two World Series rings and had one of the three hits. "You're going to face aces and it's going to be one-run, two-run games. That's just how it works."
Boston starters that preceded Peavy were Jon Lester with 7 1/3 innings Saturday and John Lackey with eight innings in a tough defeat Friday night. The Dodgers were held to five runs in the series, their lowest production in a three-game series this year.
"We were all in to win tonight, knowing that it was a big game to come into Dodger Stadium, win two of three and really have a chance to win Friday night as well," said Peavy. "It shows the caliber of ballclub [we are]. We're on the same level as those guys even though they've been on an incredible run. We're a good ballclub as well, and we found a way to win a couple."
Mattingly said Boston's veteran hitters also present unique challenges. Dustin Pedroia had three hits Sunday.
"They grind at-bats, fight for outs and if you make a mistake, they'll make you pay," Mattingly said. "It's never good to lose a series. Let's see how we respond."
Chris Capuano (4-7) took the defeat, allowing three runs in five innings while pitching in tough luck.
"We'll be looking forward to playing them again," said Capuano. "That's like a playoff series right there for us. It's a good test."
Reliever Chris Withrow served up homers to Jarrod Saltalamacchia and former Dodger Shane Victorino for three runs in his two innings, and Brandon League was taken deep by Mike Napoli in the ninth.
Sunday marked the one-year anniversary of the trade that brought Gonzalez, Carl Crawford, Nick Punto and Josh Beckett to Los Angeles, a trade that restocked the Dodgers' roster and cleared payroll for the Red Sox so they could afford to deal for pitchers like Peavy.
"It stings a little bit," Crawford said of the two losses. "They've got a good team. You're going to have to come out there and hit better. They got good pitching over there. We've got to make the adjustments at the plate and try to be better if we face them again."
Even with the loss, the Dodgers remained 9 1/2 games in front of second-place Arizona and finished Interleague Play 12-8, their first winning record against the American League since 2004.
After striking out Jacoby Ellsbury to open the game, Capuano allowed a double to Victorino. Shortstop Hanley Ramirez made an off-balance throw to first after fielding Pedroia's two-hopper and Gonzalez scooped it, but first-base umpire Mark Carlson called Pedroia safe as Victorino took third.
Napoli sent a ground-rule double that bounced over the fence in right-center, scoring Victorino with Pedroia stopping at third. Jonny Gomes was walked intentionally to load the bases, and Capuano escaped as Will Middlebrooks bounced to third baseman Juan Uribe for a double play, with second baseman Punto avoiding Gomes on the pivot.
"I felt like the score could have easily been one or two runs on their side," said Capuano. "But Dustin Pedroia leads the league in infield hits for a reason. He runs hard out of the box and was able to make it close."
Ken Gurnick is a reporter for MLB.com. This story was not subject to the approval of Major League Baseball or its clubs.